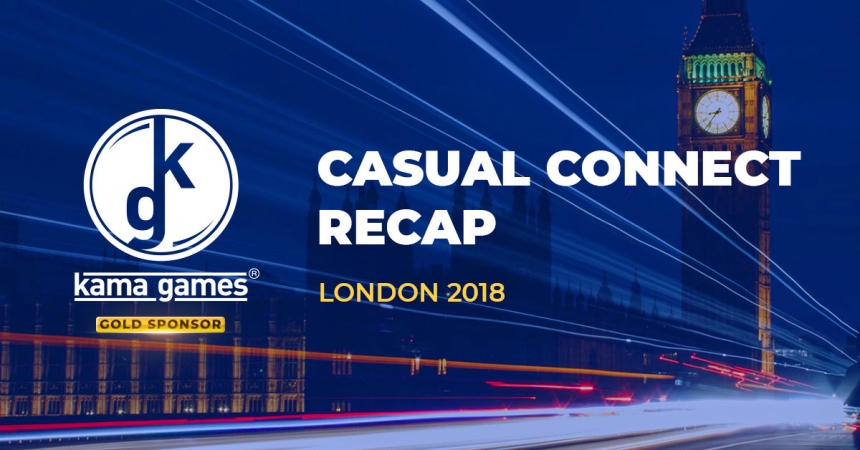 At Casual Connect Europe, on May 29th, one of the most anticipated industry talks was given by Andrey Kuznetsov, CEO of KamaGames.
Andrey started his talk "How KamaGames Grew Its Revenue by 64% in One Year" by outlining KamaGames remarkable recent milestones: "Our gross revenue for 2017 was $57.5 million which is an increase of 63.4% compared to 2016's figure of $35.2 million. We also reached the major milestone of having 100 million players enjoying our games," Andrey said.
"So far in 2018, we have managed to maintain this rate of growth," he added. "For Q1 2018, our revenue has increased by 47.9% compared to the same period in 2017. Our number of Daily Active Users has also grown by 29.7% when you compare Q4 2017 and Q1 2018."
Andrey then outlined the principles that led to these achievements, including making poker casual, Party modes, social features, in-game content and partnerships.
On Making Poker Casual
One objective, Andrey said, was to make the traditional game of Texas Holdem Poker more "casual and fun". "One of the key casual and fun elements we introduced to Pokerist recently was the unique Party modes. Every week, our players can try to play poker with a set of different and specific rules. Currently, we have 8 different Party modes. Party modes have positively affected our DAU, number of online users and their retention rate. On the launch day of a Party mode, the average hands played increases from 15% to 20%."
On KamaGames' "Content Cycle"
A major contributor to KamaGames' growth is the regular introduction of fresh, new and engaging content to keep our legions of players interested. "Our content cycle is a key factor that has contributed to our success," said Andrey. "We decided to engage players by creating a cycle of everyday activities from gaming events to personal sales to unique tournaments. Every day, players can play something different or new such as a weekly tournament, Party mode, Boost Poker, roulette tournament or Slots jackpots".
"All of this activity and focus has contributed significantly to the 30% growth in our Average Revenue per Paying User (ARPPU) in 2017 and also helping to increase our percentage of paying users by 6%."
As well as talking about the benefits of the significant social features within the game and also our successful collaboration with a number of partners over past 12 months, Andrey also looked to the future and what it has in store for its players.
"Looking forward, we are going to continue to strive to be available on all new and popular platforms and devices and to look to expand into new and emerging markets either through a partnership or by ourselves," said Andrey.
"We have a solid and locked development roadmap for the next two years, which will allow us to continue to innovate and to grow as a leading operator in the social casino space."
Following his talk, Andrey answered questions from the floor and met with several of the audience. Casual Connect also gave games industry insiders the chance to meet with KamaGames representatives throughout the show to share insights, network and discuss the ever-changing shape of the games industry.
KamaGames will be attending a number of other global conferences throughout the year including PocketGamer Helsinki, Casual Connect in Belgrade and Casual Connect Asia.