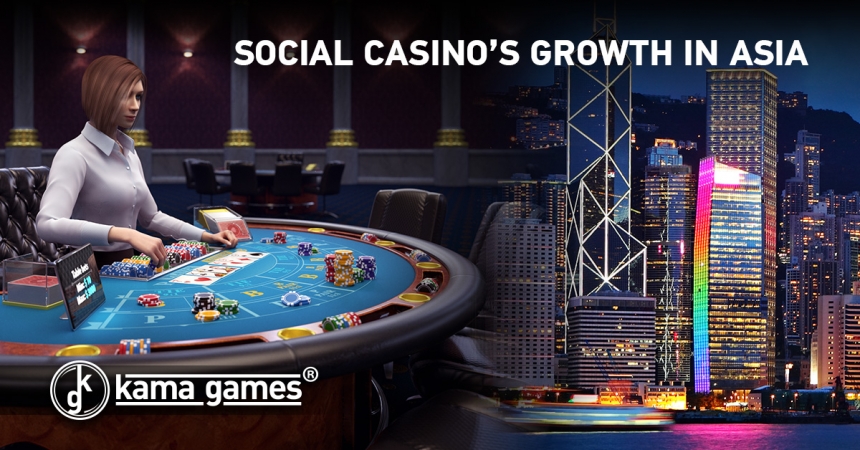 The words "social casino" and "Asia" are sharing a lot of headlines these days. And they're frequently doing so in stories about nine-figure deals and acquisitions. Changes in gaming habits, emerging new markets and cultural shifts are fueling a slew of major cross-border (and cross-continent) deals.
To put it another way, a report from JP Morgan stated that: "Global revenues from social casino games amounted to approximately US$3.7 billion to US$3.8 billion in 2016".
Going deeper, the report also points at the international growth of the industry: "While [the survey] estimated US$1.7 billion to US$1.8 billion of the revenue – or close to half in the range – was generated in North America, it said it believed international expansion could provide the next leg of growth as smartphone penetration increases."
This would suggest that, while there's money definitely being made, there's potential for much, much more. So it's not surprising that developers are looking to the East, where regulations are evolving, smartphone ownership is climbing, incomes are rising and access to data is increasing.
Here are some things to consider for Western companies looking to expand or partner in Eastern territories…
Mobiles, Data and Mobile Data
Ownership of mobile devices, as well as access to internet and mobile data, is higher on average in Western countries than in the East. This is changing though, and fast.
In fact, the tech phenomenon of "leapfrogging" has led to an explosion in mobile phone ownership. Leapfrogging takes place when a region makes a technological leap and skips past a recent innovation. For instance, China's mobile market is much bigger than its console and PC ones. Similarly, in Thailand, Vietnam and Cambodia consumers are choosing mobile devices over PCs and consoles.
As average incomes have climbed, so has phone ownership. Indeed, Statista reports that approximately 378million smartphones were sold in the Asia Pacific region in 2017, a jump of over 100million units on 2016. It's big leap, as in 2013 the number was 165million.
No wonder eMarketer estimates that "The Asia-Pacific's region will be home to 1.33 billion smartphone users by the end of [2017], and that their ranks will swell to 1.81 billion by 2021."
This rise is coupled with the spread of 4G and wifi across these continents: GSMA Intelligence reports that the region will hit an important mobile internet milestone in 2018, as 41% of mobile connections in the region will be on 4G networks, with more 4G connections than either 3G (23%) or 2G (36%) for the first time.
While credit card ownership is climbing across many Asian markets, it's still relatively low compared to Western consumers. This might prove an obstacle to mobile developers, but some have found a way around it. For example, in Indonesia, in-game payments are often paid in advance as part of a pre-pay deal or via monthly subscriptions.
There is some catching up to do when it comes to 4G and wifi in the region, but Google (among others) are investing heavily in Asia. The tech giant is launching an advanced home wifi system in Hong Kong and working on offering free wifi in Indonesia. Similar, ambitious data projects (West and East financed) are springing up across Asia. Social networks, games developers and social casino developers are only beginning to see the bubbling potential of these hundreds of millions of 4G and wifi-connected smartphones.
Money and Social Media
While there have been global trends that transcend borders, such as income and smartphone ownership, other habits of the West have yet to penetrate Asian society.
Social media, for example, has evolved very differently from continent to continent. For instance, Facebook is restricted or unavailable in many countries including China, Bangladesh and Malaysia, leading to communications via other social networks and with social casino gaming.
The Appeal of Poker
For western consumers and audiences over the past two decades, Las Vegas and poker have enjoyed a constant presence: The game itself features in Hollywood films like Casino Royale, Rounders and the recent Molly's Game. While Las Vegas has become an iconic destination in films as diverse as Girls Trip, Casino and Blade Runner 2049.
Poker has been on the rise in Asia recently too. Economic upswings in the region have given rise to regions like Macau. That territory is enjoying booming business, with its real-life gaming revenue is expected to be up 19% year on year for 2017, an estimated US$25billion.
Macau's profile has risen across Asia, as it hosts a growing number of international poker tournaments. Meanwhile, high-profile professional Chinese poker players like Dong Kim and Xuan Liu bring the game's profile to a younger audience.
Apart from cultural cache, poker suits mobile customers for a number of reasons; a game can be as short as a dealt hand (less than a minute) or can run for hours and even days; it's accessible to newcomers, but has a depth that allows for improvement over a lifetime; it's sociable (players can communicate with words and with how they play); and the clear formatting of a hand of cards suits a mobile device perfectly.
Poker and Big Deals
The social casino market is going through a heady, eventful time, with eight and even nine-figure deals becoming more and more commonplace. These deals are frequently between existing gaming giants and mobile card and social casino games companies.
Zynga bought Peak Games' mobile cards studio for US$100million; Penn National (which owns racetracks) bought Rocket Games (a US social casino studio) for US$60million; and Australian slot machine company Aristocrat bought social gaming company Big Fish for US$980million.
On the Asian casino games front, Playtika (formally owned by Caesars) was bought by a Chinese consortium in 2016 for a whopping US$4.4billion, bringing their portfolio of games to a whole new audience.
Meanwhile, in other parts of the region, Korean social casino company Double Down was acquired by DoubleU (also Korean) for US$825million.
Same Deal, Different Horizon
Regardless of whether the person is in Texas or Thailand, every developer and player wants the same thing. Developers want growth at a cost-effective price, and players want a fun, user-friendly and reasonably priced experience.
Beyond game-play and marketing, there are other considerations to address, such as infrastructure knowledge, cultural differences and legislation.
The Asia-Pacific market looks very different from its Western counterpart at the moment, with smaller audiences, different player requirements and infrastructural differences. However, this past year alone has seen seismic changes, with billions changing hands, a rapidly expanding market and countless new developers (including KamaGames) developing partnerships and opening offices in the region. Billions have been left on the table so far, but they won't stay there for long.