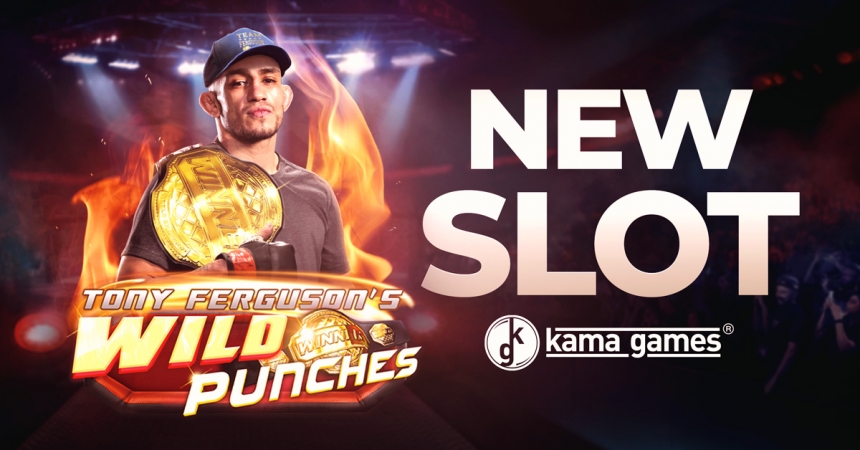 KamaGames is proud to announce the release of Tony Ferguson's Wild Punches, a thrilling new slot in our ever-growing portfolio.
This latest slot centres around UFC superstar Tony Ferguson as players find themselves centre-stage in the octagon. As players soak up the adrenaline-fueled atmosphere, they'll see if they have the skill and stamina to take home a victory.
A core feature of this slot is the presence of BELT WILD symbols. When a WILD symbol appears on the reel, it scatters and BELT WILDS can appear. Any place on the reel that's not occupied by either a traditional WILD or FREE SPIN symbol can be replaced with a BELT WILD symbol. If several WILD symbols drop on the reels and activate more BELT-WILD symbols than there are positions on the reels, then BELT WILD symbols will only replace free positions.
If 3 or more FREE SPIN symbols appear across the reels, FREE SPIN mode is activated. During this time, on each spin, one random reel will drop out entirely with a PUNCH WILD taking its place. This can activate between 1 and 4 BELT WILD symbols, placed randomly on the reels, giving cunning players a chance to win big.
Tony Ferguson's Wild Punches builds on the already strong partnership KamaGames crafted with the UFC star in early 2020. Following the continued success of this partnership, KamaGames is committed to launching further new, engaging games centred around the MMA athlete and this exhilarating sport.
To play Tony Ferguson's Wild Punches or any of KamaGames' exciting Slots games, download Pokerist here.