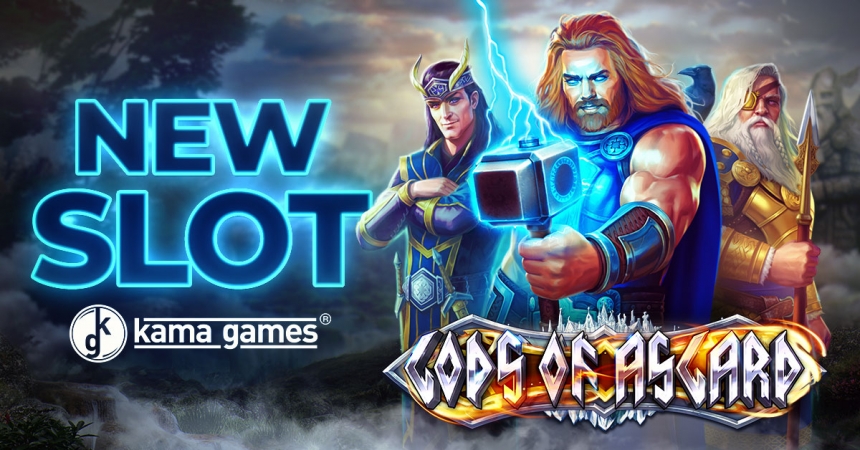 KamaGames is thrilled to announce our first daring launch of 2023, Gods of Asgard!
Join the fabled Norse gods Thor, Odin, Loki and Freya and embark on an adventure fit for a legend. With imaginative graphics and immersive sound effects players will swiftly cross the borders of reality to the mythological land of Asgard.
Players of this video slot will be treated to no less than 5 reels and 20 pay lines. The standout component of Gods of Asgard, however, is the Mega Ways feature. The Mega Ways feature uses supersized Norse-themed symbols on the reels to produce extra wins. One of these symbols can take up to five times the space of a traditionally sized symbol on a reel. These symbols, while taking up five units, create one line. If players collect two additional symbols on the reel in addition to a supersized one, they can boost the number of winning lines. This means players can collect huge wins from just a single spin! For ease of playing, symbols are always displayed in full on-screen for the player. By the will of Odin himself, there is no drum rotation in this slot, as the reels fill from top to bottom.
The payout for this feature is similar to the All Ways feature, however, each symbol, regardless of height, is counted only one time. Yet, players can collect the maximum payout for this feature with only symbols of minimum height.
As a further enticement, KamaGames has included WILD and Scatter symbols in Gods of Asgard. Each of these features can result in players collecting extra wins and bonus rounds. As a final touch, players can enjoy from 5-15 Free Spins after accumulating 3 of these symbols on the reels. Throughout 2023, KamaGames is committed to entertaining our community of players with games that match Gods of Asgard's creativity and standard of entertainment.