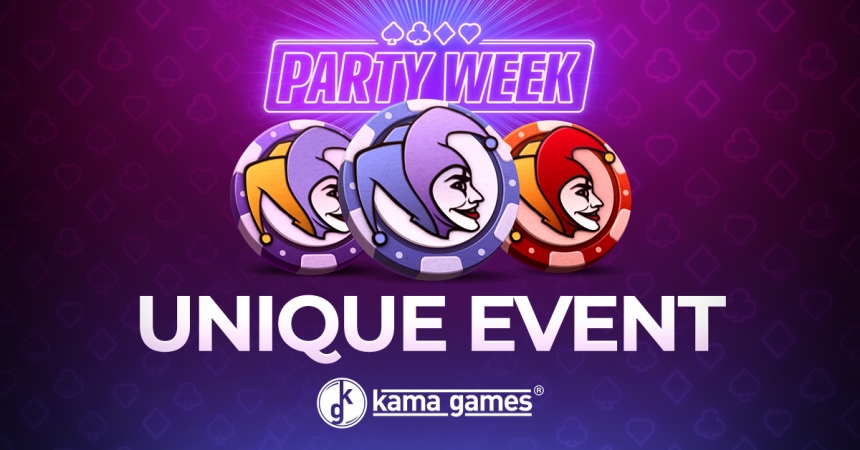 KamaGames is proud to announce the launch of our latest event, Party Week. Focusing on one of KamaGames' most popular mechanics, this latest in-game event will celebrate the unique qualities hosted within KamaGames' innovative Party modes.
From January 10th to 18th, KamaGames' apps will launch a different Party mode every day. This rare event will introduce players to a total of 9 distinctive modes which they can play alongside KamaGames' current offering.
To add further excitement to Party Week, when players engage with these 9 modes and win, they will earn rewards. As always with a KamaGames event, the more points a player collects, the greater the reward they can claim. Players will also compete in a Party Week rating system based on the total number of event points collected. This system will determine a players position on a global, country and friends leaderboard. However, players have the chance to multiply the points they've collected by picking up free special boosters in-game. Any player who engages with all 9 Party modes will also receive a yet-to-be-revealed rare and valuable award from the casino. Players can follow KamaGames' social channels to apprise themselves of the full schedule for Party Week.
As a pioneer in innovation, KamaGames was the first developer to introduce Party modes to the social casino space. Having crafted a top grade social poker game, KamaGames elevated our offering by then introducing the option to play this game by fresh and unique rules - thus making the game more casual, entertaining and challenging.
Some of KamaGames' most popular modes to date include Joker Party and Super Party - each providing players a new spin on the iconic poker game. In Joker Party, players can engage with an interesting poker game where 4 Joker cards are added to the classic deck. In Super Party, each player is granted a special superpower that gives them a cunning advantage over their competitors. While some players know the cards that their rivals are holding while others can predict the next card to be drawn in the game.
Currently, KamaGames holds upward of a dozen Party mode titles in our portfolio with firm plans to extend this offering throughout 2020.