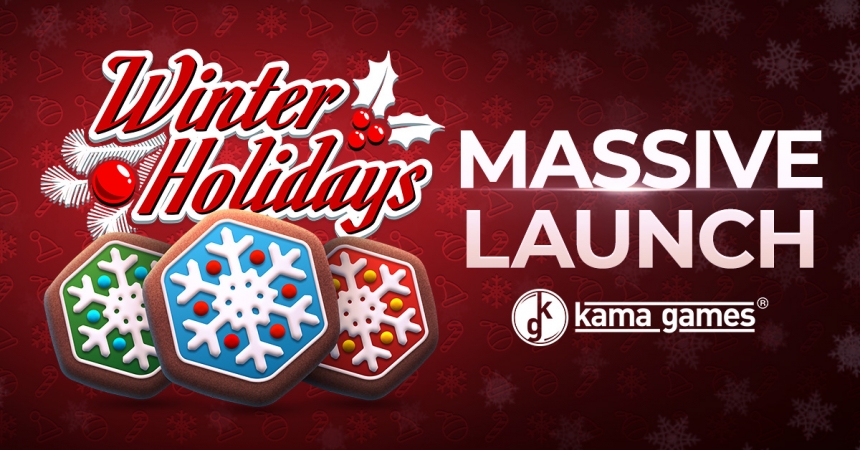 KamaGames is proud to announce the commencement of our Winter Holiday marketing campaign.
This campaign aims to give players the opportunity to engage with new features while playing KamaGames wide portfolio of social casino games. For hands won, players earn points which can be used to claim in-game rewards. Of course, the greater the points, the greater the reward!
Players will also amass points to compete with KamaGames friends and rivals in a rating system among global players, country-wide players and friends. To aid players in their quest to climb these leaderboards, KamaGames has allowed them to earn and receive special boosters for free. When claimed, these boosters can multiply a player's earned in-game points.
To add further excitement to the event, KamaGames has included a collection of new features to be launched during this time. Just some of these features include new tournaments and advanced jackpots in our Slots titles. To celebrate the event, new slots will also be released, including a Winter Buffalo slot. This release is a modified version of one of our most popular Slots titles - Buffalo Valley. In addition to these winter-themed releases, the game will host a variety of bonuses, new promotions, contests, not to mention seasonal customised 3D avatars and gifts.
For KamaGames, 2020 proved an unusual yet rewarding year with the launch of unique releases and landmark events. Thanks to workplace adaptability KamaGames has managed to maintain our release pace, engaging our players with new mechanics and features. We have recently surpassed 150 million unique players and 2020 has already become a record year for us in terms of revenue. This Winter Holidays campaign will allow us to push our metrics even further upward in the last remaining days of the year, starting 2021 on a high note.