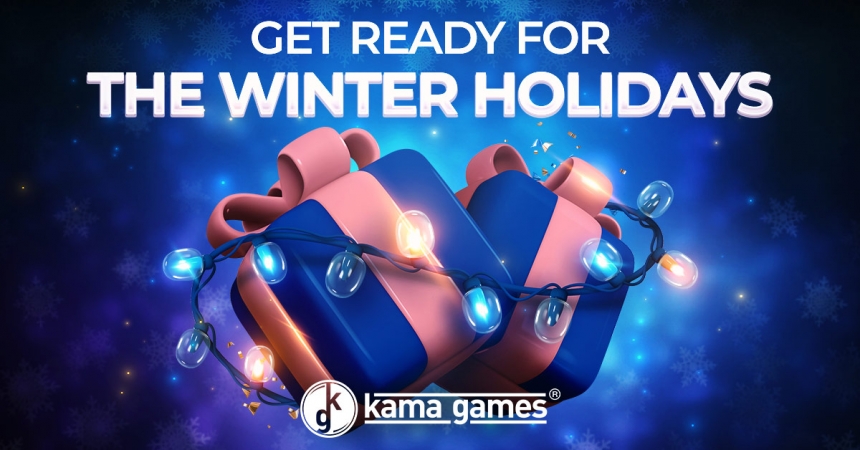 KamaGames is pleased to launch our most recent marketing campaign, Winter Holidays.
To coincide with the traditional festive period between Christmas and New Year's, this campaign will run from mid-December through to mid-January. Winter Holidays will host a variety of holiday activities for players including the latest season of Casino Pass, New Year Season.
Throughout Winter Holidays, players can navigate around the various games hosted within the casino, win hands and collect points. Of course, these points can then be exchanged for lucrative rewards. The greater the number of points collected, the greater the reward to be obtained. These points will also count towards a player's place in a friend, country and global rating system. For added excitement, Winter Holidays will see the launch of KamaGames latest themed Slot, Christmas Gifts. Happily, this will accompany the introduction of x10 rewards in all winter slots!
In addition to the above, the KamaGames casino will provide a range of additional bonuses, new promotions and gifts to help players celebrate the season. Players will also notice new additions to the avatar store, ensuring their customised 3D avatars will be appropriately styled to celebrate the holidays. Along with this, KamaGames will deliver a collection of valuable contests and other creative content for players to relish.
The New Year season in Casino Pass will give players an opportunity to complete quests and scoop up valuable chips. During the season of giving, players who secure an Elite Pass will collect up to x15 the value in chip purchases.
2021 marked an unprecedented year for KamaGames, with a wealth of rich releases and proud landmark events for the company. This closing campaign will facilitate a final rise in user metrics for our products, ending the year on high and allowing the company to enter 2022 on a strong footing.