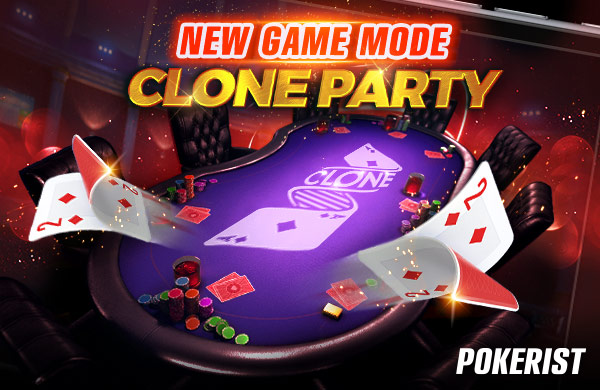 KamaGames are very pleased to announce their next Party game mode to Pokerist, CLONE PARTY.
Following the great success of our 6 other party modes, Hearts, 10 to Ace, Joker, U-Turn, Swap, and 3 Card, Clone Party once again puts a new twist on the classic game of poker.
The party mode plays like a traditional game of Texas Hold 'Em until near the end of the deal, where one of the community cards is duplicated or "cloned". This new card creates an extra pair among the community cards, changing the game for every player - and might even turn the tables.
Pokerist players have come to expect fun, inventive new ways to enjoy the traditional game of poker. As the largest European social casino operator, we at KamaGames take pride in finding fresh takes on the game by introducing new core game mechanics to make it more exciting and entertaining for players at all levels of the game.
Clone Party is available now in Pokerist and ready for download.
To find out more click here.
We hope you enjoy this great new addition to Pokerist and we'll see you at the tables!
For further information on KamaGames' portfolio of titles click here: https://www.kamagames.com/coporate_assets