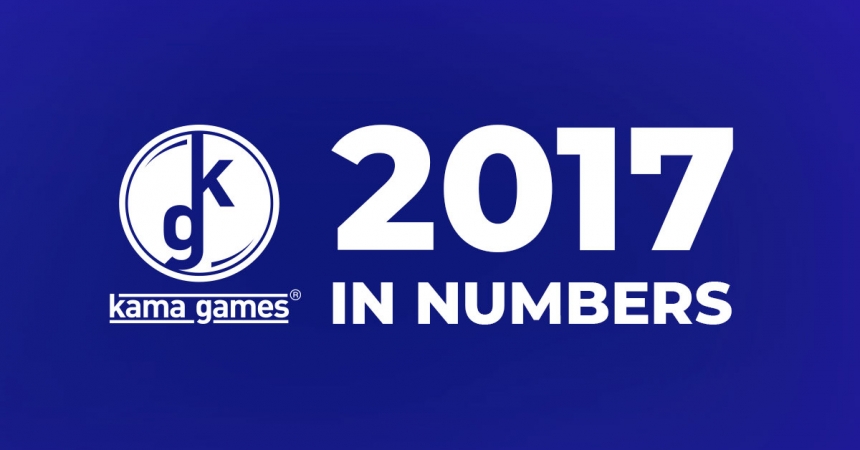 In the Beginning
KamaGames was founded in 2010 and soon after launched its flagship title Pokerist. Over the years we managed to claim the No.1 spot as the top grossing app in 101 countries on the App Store and amongst the top 5 top grossing apps in 45 countries on Google play.
Since then, we've seen a host of new games being released with Roulette, Blackjack, Baccarat, Omaha, Set Poker and recently Slots and we have also pushed the boundaries of conventional poker with the launch of our unique Party modes with their our specific set of rules and game mechanics.
When it comes to daily active users and revenue, our flagship title, Pokerist, is currently ranked around the No.3 spot within social poker mobile games, alongside Zynga Poker and WSOP from Playtika .
As a company, we work hard every day in order to compete with and overtake our competition by adding new, unique features and also experiment with new game mechanics such as Party Modes.
A Very Good Year
Looking at 2017, this was an exceptionally good year for us, for a number of reasons. We were very proud to be able to report a gross revenue figure of $57.5 million, which is an increase of 63.4% based on 2016's figure of $35.2 million. We are also proud to be able to say that the company has grown at an unprecedented rate for the last 6 consecutive quarters, something that is definitely a rarity for any company in the current economic climate.
There isn't really one reason as to why we are growing at the rate we are. It's more of a combination of multiple factors. Over the last year, we've significantly increased our metrics such as Average Revenue Per Paying User (ARPPU), share of paying users, and number of Daily Active Users (DAU) and we believe that we are consistently within close reach and even sometimes out-performing our competition.
Looking specifically at a number of areas of growth, the key points of note would be; that the quality of our portfolio has improved, we have released a number of new products and we are executing more aggressive marketing campaigns.
Expanding our Portfolio
Over the course of 2017, we released a number of new games into the market:
Baccarat, in February, 2017
Omaha Poker, in April, 2017
Set Poker (3 card Poker), in December, 2017
Slots, in February 2018
These new games, along with the previously released Texas Poker, Roulette & Blackjack form a solid and varied portfolio of the most popular casino games designed specifically for the social gaming audience.
When talking about our wider portfolio, one of the most important aspects to consider is that our players are able to seamlessly cross from one game to another without opening another app, creating another profile, or losing any of their progress in the form of virtual chips. It also means that instead of playing just one game and leaving, our players switch to a different game at least once in a play session. In fact, right now, 51% of our daily active users play at least two of our games.
The games within our portfolio complement each other and help increase our user metrics which are Retention, Paying Users Percentage and ARPPU. ARPPU grew by 30% throughout 2017 with the share of paying users growing by 6% in the same time period.
From our own research, Blackjack is our game with the highest retention (Retention Rate Day 1 is higher than Poker by 11%) and the highest percentage of paying users. Meanwhile, 44% of new Blackjack players will end up playing at least one poker hand and over time they start playing and paying within the poker game.
Roulette is a very specific game with a small hardcore audience, but it actually has the highest ARPPU in the KamaGames portfolio (32% higher than in Texas Poker). Once a week, we launch a tournament where players are competing against one another instead of trying to beat the house. During these tournaments we see a rise in players joining from the other games in the portfolio which results in around a 300% increase in roulettes Daily Active Users.
New Marketing Frontiers
Whilst we are continuing to grow in the current markets, we are also continuing to actively pursue new and emerging markets too such as India, South East Asia and China.
In addition to North America and Europe, the KamaGames portfolio is also very strong in areas such as the Middle East and South America. These four areas make up for 78.4% of our global players and so there is still significant growth opportunities for us as a company in the new and emerging markets. We're still acquiring an average of 1.5 million new players every month, with plans to drive that number significantly higher by the end of 2018. Our DAU count is up to an average of 414,500 vs 305,000 in 2016 which is a 35.9% increase. At the time of writing this, we have just reached a DAU number of over 510,000.
Now we have launched our own slots games, we are able to enter the slots audience segment which, according to a recent Newzoo report, is made up of 40% female players. If you compare this to our gender demographic split based on poker where we have 84% male users, this new release could see the start of a significant shift from our usual audience, allowing us to aim at a brand new and significant potential market. We expect this will stimulate growth, both in DAU and also in revenue.
First Europe; then the World!
KamaGames initial ambition was to conquer the European market, and we have comfortably achieved that. As we mentioned above, according to data from independent reports such as SuperData, when it comes to both revenue and number of players, we are the 3rd largest social mobile poker operator in the world after Zynga Poker and WSOP from Playtika. This also makes KamaGames the largest European social mobile poker operator as both Zynga and Playtika are of course not European companies.
The KamaGames group is spread across the world in a number of offices and we have a number of ambitious plans for 2018 including the need to expand our workforce. The key for us is to make sure that we have strong, local expertise in all of our current key markets and also our emerging markets.
However, there will always be a challenge in finding the right people in the right location. This means that as a company we need to be not only flexible when it comes to remote working but we also have to regularly evaluate the need to open local offices too. If it is going to be of benefit and will help us attract the best talent, we will of course look to establish an office anywhere in the world. We currently have our Headquarters in Dublin, Ireland and also have offices in London and Dubai and also studios in Eastern Europe.
The Future: KamaGames and the next Three Years
Obviously it's tricky to predict the future and even a company as big as ours has to remain agile. That being said, it's important to plan for the future and consider how we'll adapt to our growth, embrace new tech and move to the next level.
We have a set of very clear goals that we are looking to reach within the next three years (at the latest):
To become one of the Top 5 social mobile casino operators
To develop a large and varied portfolio of social casino games appealing to all social casino players in all genres and all countries
To continue to develop products of superior quality and to enhance them with unique features and content
To continue to invest in aggressive marketing via user acquisition
In three years, anything can change, new platforms can be developed, new opportunities can be made available, but in order to be the best in what we do, we must continue to invest in these new opportunities and be one of the pioneers of new platforms and technologies. This how we have worked before, how we work now and how we will work going forward.