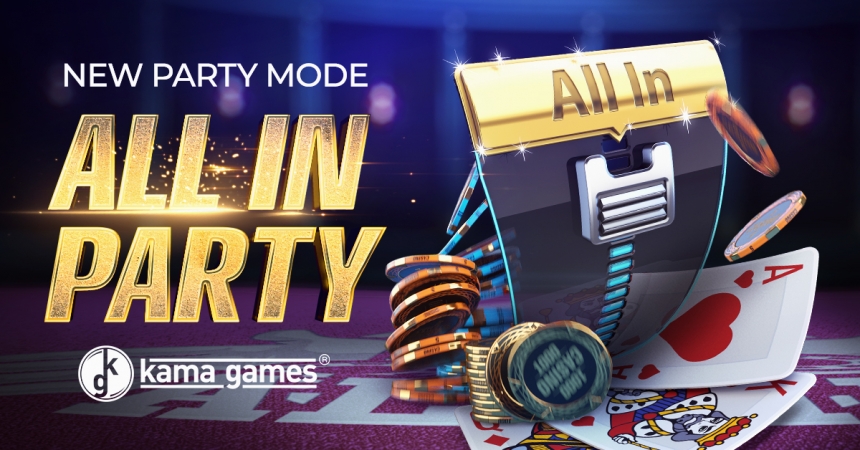 KamaGames is pleased to announce the latest addition to our Party mode portfolio, All In Party!
Launching from May 2nd, 11am UTC, All In Party let's players make their key game decisions during the preflop and the flop only. If they see fit, they can call the blinds or fold and on the flop, players can go all in or fold. To add an element of thrill, players can post the mega blind, a feature that's equal to no less than 5 big blinds. This Party mode is designed with the boldest of players in mind and rewards the bravery of those who don't hesitate to go all in before the turn. All In Party is not only a clever addition to this popular mechanic but it embodies the electricity that every poker player feels by placing their chips on a daring hand.
Party modes present a rare opportunity to the highly skilled players found in KamaGames' poker community. Having mastered the classic variations of poker, these players can indulge in their favourite game of Texas Hold'em hosting never before seen rules. This can mean more jokers than normal are added to the deck or that players are given special abilities during the game, such as seeing their rival's cards. Of course, All In Party is no exception to this running theme of innovation in poker.
Since their introduction, Party modes have led KamaGames players to discover innovative new ways to play the classic game of poker. Following unique rules, found in no other online poker offering, players have indulged in a truly singular gaming experience. Given the success of this mechanic, KamaGames' Party portfolio now stands at no less than 9 modes and we are confident this offering will grow steadily throughout 2021 and beyond.