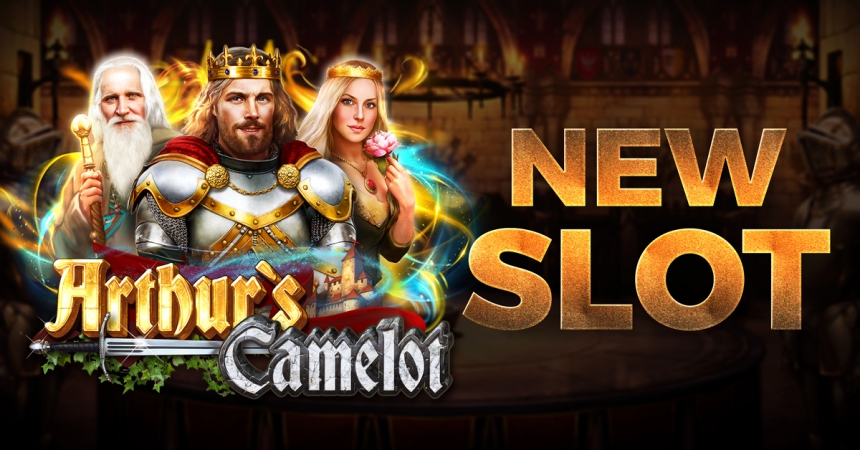 Travel back to a time of myths and legends and join the adventure to help King Arthur seek out the path to Camelot and receive a reward fit for a King in our lastest slots game Arthur's Camelot.
Arthur's Camelot includes a host of compelling new features including 5 reels, 3 rows, and 20 pay lines. Players on the path to Camelot will be met with two never seen before free spin modes - King Mode and Witch Mode! Once two FREE SPIN symbols appear on reel 1 and reel 5, the free spins will commence and a new adventure begins.
The game will always start with King Mode, accompanied by infinite free spins until, at last, the witch symbol reveals herself on the reels. The game will instantly switch to Witch Mode where the number of free spins will decrease after every spin. If the King symbol appears on the reels once again, the game will revert back to King Mode for even more chances to win.
We are also very pleased to announce that Arthur's Camelot also includes two new bonus games - Sword Bonus and Goblet Bonus.
A Sword Bonus tasks players to help a young Arthur to retrieve the mythical Excalibur from the stone and become a legendary King! Once three or more Sword in the Stone symbols appear on the reels, the bonus game begins giving players the chance to choose from three symbols from the tales of Arthur with each symbol containing its own hidden reward.
The Goblet Bonus summons all Knights to the round table, prompting them to raise a goblet to their beloved King Arthur! Once three or more Goblet Bonus symbols appear on the reels, the game will begin. Six goblets will be revealed on-screen, leaving players to pick two and receiving their reward.
All of our Slots games are available via the Pokerist app which can be downloaded for free by clicking on the following link.