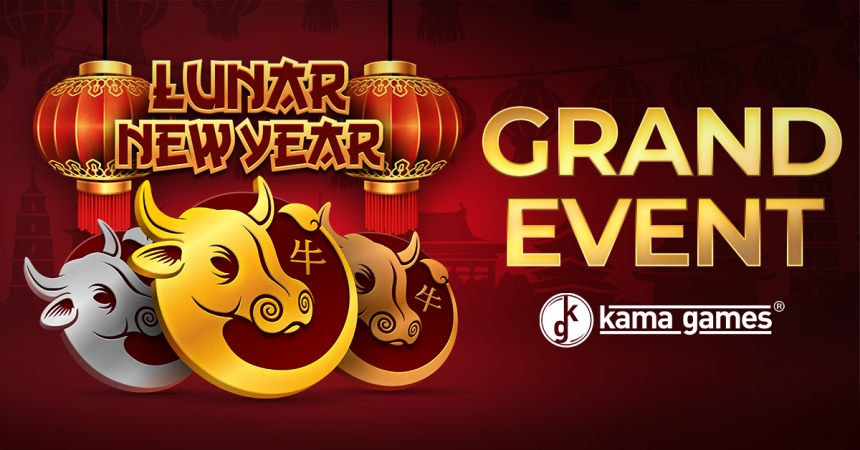 Celebrate the Year of the Ox with KamaGames' latest event, Lunar New Year.
Launching from today, Friday the 12th of February, this in-game event will run until Friday, February 19th. KamaGames has taken a particular interest in this world celebration given its significance in east and southeast Asian countries where a meaningful sector of our player base originates.
Among the wealth of surprises planned during this time, players will find themed decorations, surprise gifts at the playing tables, bonuses and promotions. They can also experience increased jackpots in selected Slots titles and a special themed slot, Chinese Carnival.
Not only will players be able to avail of these tempting promotions but they'll also collect points for hands won in KamaGames' casino games during the event. These points can then be exchanged for a variety of exciting rewards depending on how many they've accumulated. A greater number of points allow the player to collect more impressive rewards, along with improving their status within a global, country-wide and friends rating system.
For the luckiest of players, there will be both event and special free point boosters found within the casino. These boosters will serve to multiply the points the player has already earned.
KamaGames has commenced 2021 on a strong footing thanks to our focus on in-game events and rewards throughout the latter part of 2020. Each recent in-game event has included opportunities of players to collect rewards while playing the ever-expanding portfolio of social casino games they enjoy. KamaGames is fully committed to continuing in this trend throughout the remainder of the year, offering only the best value possible to our player base.