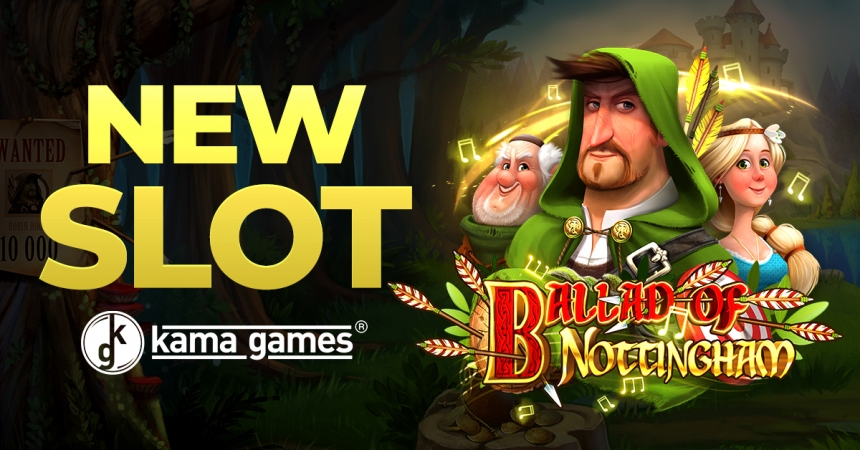 KamaGames is pleased to announce the expansion of our Slots portfolio with the release of Ballad of Nottingham.
Dedicated to the lore of Robin Hood, this Slots launch will send players on an adventure fit for a legend. Do players dare empty the coffers of the rich to fill their own purse?
With enough excitement to equal the fabled legends of Robin Hood himself, Ballad of Nottingham inspires fervour in players with the presence of random WILD symbols. Yet, these won't appear on the reels as typically expected. Following the spin, there is a chance of between 0 - 5 of these random WILD symbols popping up in unpredictable places on-screen. When this happens, players will see an outlaw poster pinned to the reels with one of Robin Hood's infamous arrows. Players of Ballad of Nottingham can also win either 10, 15 or 25 Free Spins when 3, 4 or 5 of these symbols appear on the reels. Along with Free Spins, players can use this opportunity to collect between 2 and 5 WILD symbols.
Differing from other slot launches, Ballad of Nottingham will not only be available early for VIP Level 1 members, but it will also be accompanied by a special in-game event in which players can play this release and earn event points. During this time, our apps will host some of KamaGames' most popular event features in recent months including a rating system based on friends, country and the rest of the globe. Players will also be able to use their event points to collect attractive rewards. Of course, the greater the number of points, the more valuable the reward a player can scoop up.
As a final enticement to players, KamaGames has included a star tournament with a x10 prize pool to Ballad of Nottingham along with special thematic offers.