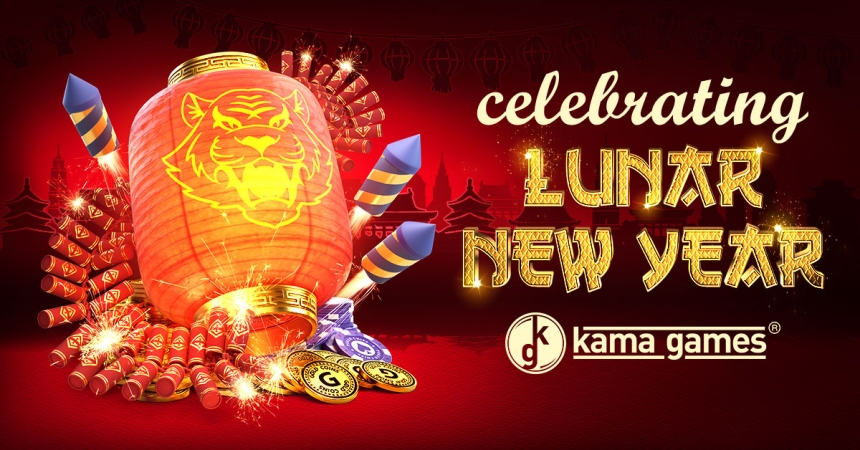 KamaGames is thrilled to celebrate the launch of our Lunar New Year activities.
While the Lunar New Year officially begins on the 1st of February, these activities kicked off in mid-January and will continue to the middle of the following month. Thus, players can begin the Year of the Tiger with an opportunity to win a wealth of chips.
Starting the Lunar New Year on good footing, KamaGames launched these activities alongside the release of our latest themed season of Casino Pass. Players can not only enjoy this feature but when they engage with our social casino games, they'll have the chance to win hands and scoop up valuable event points. These points can then be traded for lucrative rewards at the casino. As always, the more points a player collects, the greater their ultimate prize. Still, that's not all that they can be used for. Event points will also contribute to a player's ranking in a global, country and friend rating system.
In addition to these features, KamaGames has prepared a host of daring themed surprises and bonuses for players. These include decorations, gifts, special promotions and free bonuses. To further sweeten the pot for players, when they engage with the Chinese Carnival slot machine, they can collect x10 rewards.
While the Lunar New Year can be considered a global celebration, it's particularly popular in East Asian and Southeast Asian regions where a large section of KamaGames' players reside. Therefore, we're more than pleased to offer these valuable players the chance to celebrate this event and gain rich rewards. Throughout 2022, KamaGames will continue to focus on celebrating these meaningful events which are of great importance to our diverse community. While carrying out these celebrations, we will also aim to offer the highest standard of gaming to our global audience.