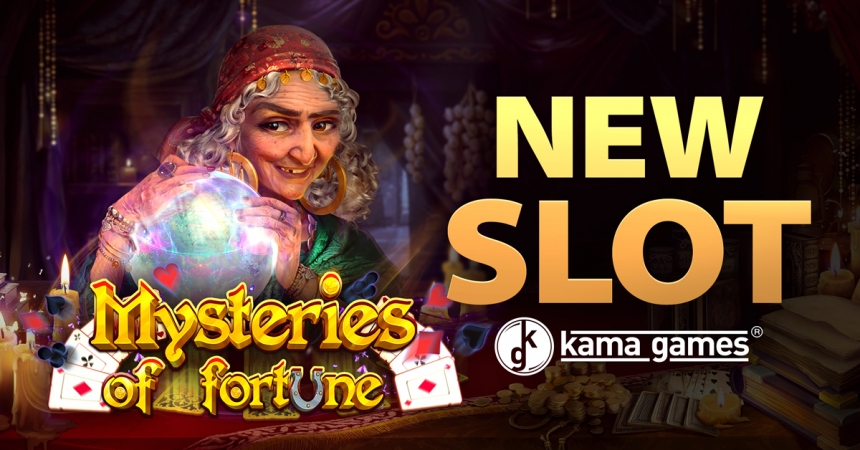 Gaze into the future and unearth what untold wealth lies ahead in KamaGames' latest Slot, Mysteries of Fortune.
This latest mystical slot hosts a distinctive and captivating feature - collapsing reels!
When a winning combination appears on the reels, an epic explosion occurs, causing the reel to collapse and fall dramatically from the screen. Now leaving space for more big wins on the reels, this process continues until there are no possible winning combinations left.
Bonus and Free Spins symbols also explode! When these features are activated, the reels will finish collapsing and then the Bonus game or Free Spins begin.
When Free Spins symbols are combined, players can choose from 1 of 3 mysterious and powerful tarot cards. Each card holds a different fortune for the player, gifting them with a number of free spins and a multiplier. The tarot deck includes a 5 Free Spins and X6 Multiplier card, a 10 Free Spins and X3 Multiplier card and a remarkable 15 Free Spins and X2 Multiplier card.
When 3 or more bonus symbols appear on the reels, the Tarot Bonus launches. Players choose from 1 of 5 tarot cards from the fortune teller's deck and are able to collect an enticing bonus. Each of the four rounds in this new bonus game holds a single, mystical card which will give players the chance to collect every prize depicted on the cards.
The Tarot Bonus promises good fortune for those daring enough to take charge of their destiny, however, should a player select a blank card, their time in the bonus game will swiftly come to an end.
All of our Slots games are available via the Pokerist app which can be downloaded for free by clicking on the following link.