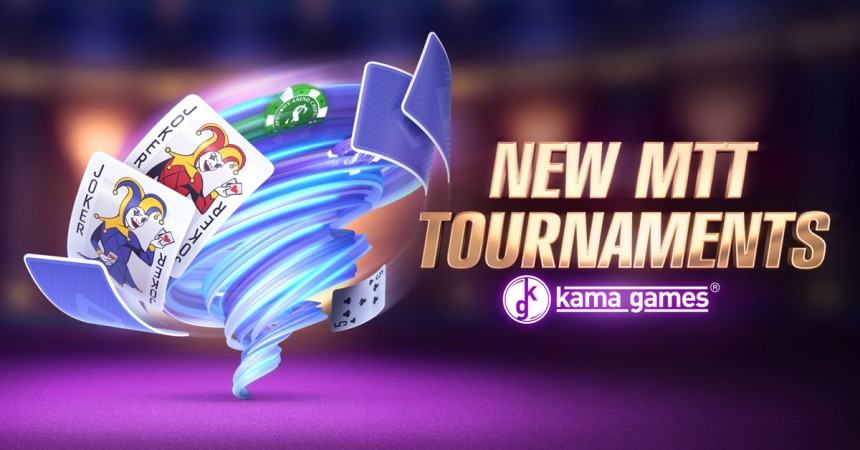 KamaGames are proud to announce the launch of two brand new Multi-Table Tournaments (MTTs) themed around the hugely popular Omaha Poker and our innovative and engaging Party modes.
These latest additions available now on the Pokerist app, combine our most popular gaming mechanics, MTTs, Party modes and the player's favourite, Omaha Poker. Each of these key individual elements have been a hit amongst our players on their own and so by combining them, we are going to be able to make our tournaments even more intricate and exciting.
The Omaha Poker MTT will see each player being dealt four cards in the preflop. They will then use two of those cards to make the best hand possible.
In the Party mode MTTs, there will be four kinds of tournaments available to players, each with its own specific rules and special twist. These MTTs are titled Joker, 10 to Ace, Pair and Hearts.
The first Party mode MTT will be Joker, where four jokers are added to the standard poker deck. This will be followed by 10 to Ace where the deck will consist of cards of all four suits from ten to ace only. Next will be the Pair MTT in which players will be dealt a card and a duplicate in the preflop: so a deal of an ace of spades leaves the player holding two ace of spades, for instance. Finally, there will be the Hearts tournament where the entire deck will consist of just two suits, spades and hearts.
This latest update to Pokerist is just another example of how KamaGames are committed to searching out new ways to engage and entertain our players. We were the first mobile gaming developer and publisher to launch MTTs into the social casino genre and we have led the way once again by being the first to bring MTTs with unique rules to social casino fans, boosting player excitement and engagement around our tables.
To download Pokerist now, click on this link: http://pokerist.com/play/