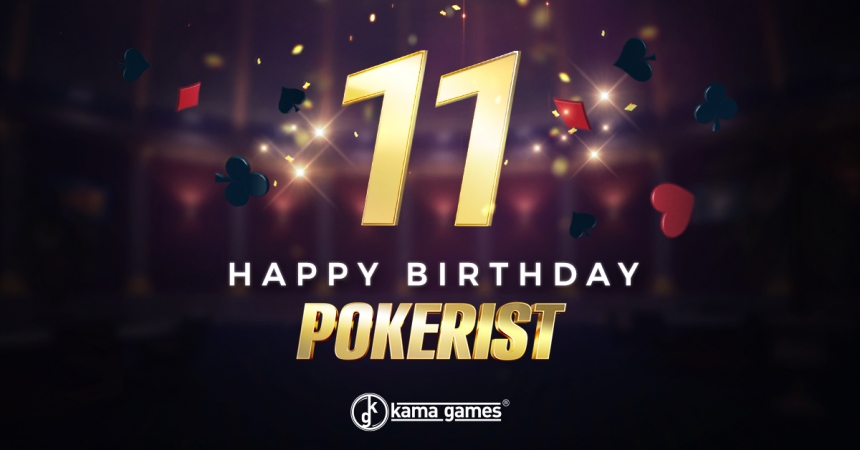 KamaGames is pleased to announce that today marks the eleventh birthday of both our company and our flagship app, Pokerist.
This double celebration is enhanced further given Pokerist's eleven-year history of reaching and then surpassing many ambitious revenue and download goals. In the previous year alone, KamaGames grew ahead of the overall market by no less than 38.4%. During the same period, KamaGames passed the 150 million unique user milestone with Pokerist being credited as a core driver behind this accomplishment.
Today, Pokerist is the third-largest social poker app worldwide and a market leader in no less than 12 countries. Given the success of our core poker game throughout the previous eleven years, KamaGames has brought a wide variety of additional social games to the online landscape. The most prominent of these additions include blackjack, roulette and craps. Now hosted on Pokerist, these titles stand as global leaders across mobile platforms.
Each year KamaGames and Pokerist have demonstrated growth rates ahead of the overall social casino market. This is a direct result of our commitment to engage with player feedback, along with the regular introduction to high-quality games and features.
To celebrate the previous eleven years of undoubtable successes, as of today KamaGames will be launching a wealth of content within Pokerist. This includes a vast array of activities and bonuses aimed at keeping players engaged and entertained, while also giving them ample opportunities to win big.
Looking to the future, KamaGames has ambitious plans for Pokerist. While it would be premature to reveal too much at this point, we can say that they will revolve around the core tenements of our current success which we've outlined above. Ultimately, our goal is to give our community the most realistic casino experience available online.