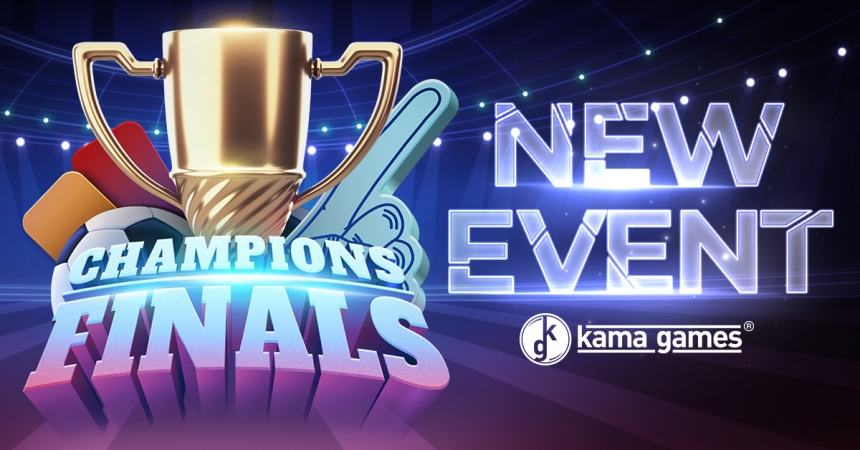 KamaGames has the pleasure of announcing the latest in a succession of exciting in-game events - Champions Finals.
Dedicated to the global sporting phenomenon, the Champions League final, KamaGames has ensured that this event surpasses any which has come before it. To achieve this, we've included a variety of special content to enable players to win games and unlock valuable prizes.
During Champions Finals, players will find several enticing rewards and features scattered across the online casino. This includes x3 sales of chips and lotteries, not to mention our event-themed weekly tournament, giving no less than x2 rewards. Champions Finals will also introduce players to the Grand Finals slot, which, as an added reward for players, will host x10 rewards for a total of 48 hours. Each of these individual mechanics presents an opportunity for the KamaGames community to win big and celebrate like a true football superstar.
What's more, players that engage with KamaGames' social channels during the time of the event can test their creativity by taking part in our social competitions. Across these social pages, players will be challenged to share what they believe are commonalities between poker and football, with the most creative and humorous responses securing a lucrative reward. In KamaGames' Sports Betting section, not only will players receive a free bet for the final match but 50 lucky players who secure a winning bet will also collect an impressive x5 bonus.
As the casino transforms to celebrate this global sporting event, participants will notice the presence of special-themed decorations and in-game gifts for a limited time. Our experience within the social casino and social sports betting landscape has over time revealed a noticeable connection between gaming enthusiasts and sports aficionados. KamaGames is dedicated to providing this crossover audience with specialised content, in the form of these singular and entertaining in-game events.