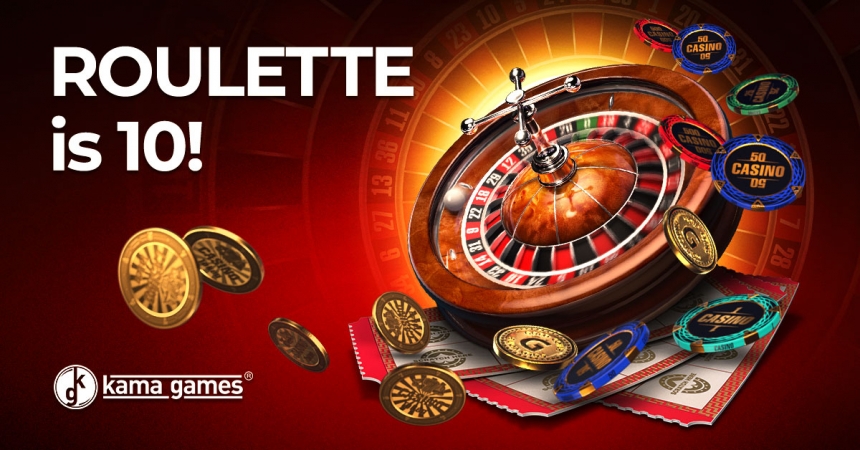 KamaGames is pleased to announce that our roulette game is celebrating 10 years.
Throughout the previous decade, KamaGames has been committed to making our game one of the most engaging roulette products on the market. Part of this pledge to excellence includes creating a variety of superior experiences for our players. This comprises offering players the chance to play 3D roulette and introducing several different styles of playing such as European, French and American roulette.
In addition to this, KamaGames allows players to choose between three inventive roulette tournaments. The first engaging tournament KamaGames released was European Roulette. With this tournament there is a fixed reward which is determined from the beginning. Then, players enter into four rounds of roulette with the eventual winner emerging as the player who holds the most chips in the end.
Following up on this successful addition, KamaGames introduced a Boost Roulette Tournament. Unlike our first tournament, this exhilarating breakneck tournament hosts a total of three rounds. A key feature of the tournament is that instead of having a fixed prize for the winner, the overall reward is entirely random. This ultimate prize is determined at the beginning of the tournament and following that, the game begins!
KamaGames' third tournament instalment focuses on thrill over longevity. The standout element of Star Tournaments is that they can end at any given time. Players earn stars by spinning the wheel and winning. Thus, whenever the tournament ends, the rewards are distributed to those who've accumulated the most stars.
In celebration of all that our roulette product has achieved throughout the previous ten years, KamaGames has prepared a wealth of rich activities, plus a special in-game event for our loyal players. Thanks to this event, players will enjoy bonus rewards for entering the game and impressive discounts for buying chips.
Looking forward to the next ten years, KamaGames is committed to continuing in this trend of innovation for our roulette game. We'll continue to grow in terms of scale and offering by responding regularly to the evolving wants and needs of our loyal audience base.