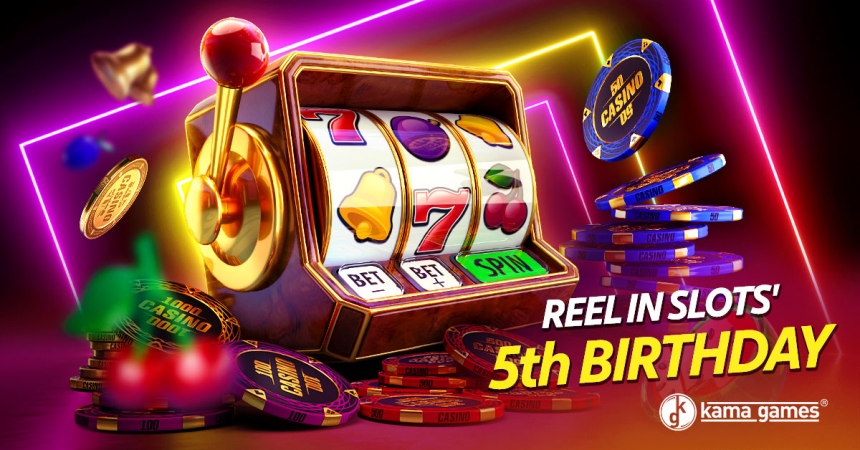 KamaGames is delighted to celebrate the fifth birthday of Slots.
Since launch, our purpose has been to offer a creative and gripping Slots gaming experience. We've achieved this through a regular practice of new launches, engaging mechanics and enticing rewards. This clever combination has led to KamaGames providing players with the most entertaining slot experience on the social casino market. Today, our portfolio delivers no less than 60 distinct titles, each uniquely designed and hosting its own savvy mechanics.
KamaGames has lit up the casino with a frenzy of activities to celebrate this milestone. Players will find an abundance of deals on chips, gold and lottery tickets with x3 value. They will also be treated to the Slottist Party in-game event, where they can scoop up numerous rewards and bonuses. If that's not enough to tempt, KamaGames is also including a Super Tournament Day in the celebration, where players can collect x10 rewards in our most popular Slots titles.
Given that this celebration is in honour of Slots, KamaGames felt it fitting to launch our latest title during this time. The Jack Tales is a 3x5 slot reel that allows players to reach new heights in a classic fairytale world of riches. This slot hosts colourful characters fit to match the magic of the tale, such as the giant, the golden goose and naturally, Jack himself! Each character is given their own artistically designed symbol which can trigger a different bonus feature. What's more, players can enjoy the fan-favourite Free Spins when three or more scatter symbols appear on the reels.
A cornerstone of our success with Slots has been our commitment to unique features and mechanics. Throughout the previous five years, we have given slot players bonus games, jackpots, star tournaments, slot statuses and the co-op game experience. Each of these features, coupled with rich storytelling and bold design, were responsible for bringing joy to our player base.
KamaGames will continue in this trend of innovation and storytelling in our slot machines for the remainder of 2023 and beyond. However, as thanks for their continued loyalty, we remain committed to building on these features to provide players with unique new games to enjoy in Slots.