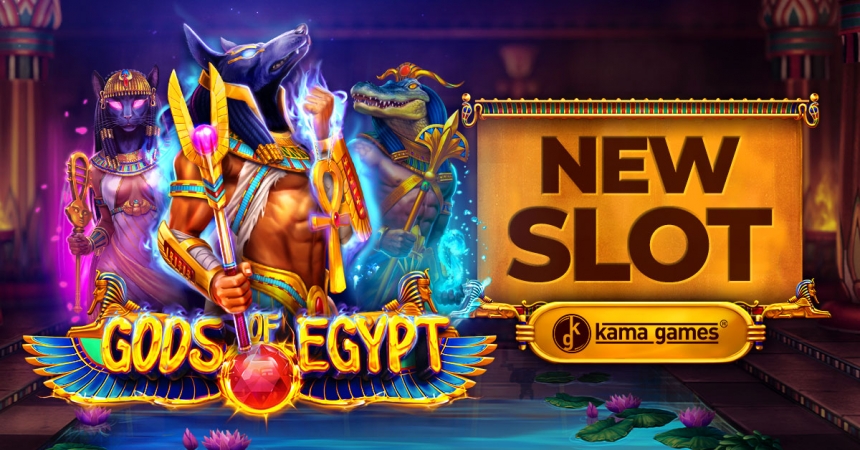 KamaGames is happy to announce our latest Slot launch, Gods of Egypt!
In our latest slot, players will travel to the rich and majestic lands of Egypt. Steeped in mythology and culture, Egypt lends its adventurous spirit to this 5x3 reel slot machine aided by thrilling features and opulent graphics.
As players explore the mysteries of this ancient civilisation, they'll notice not one but two stunning new features, Egypt Force and Scroll Wilds. Egypt Force can be triggered at any time if a total of 3 or more identical god symbols appear on the reels. There is also the chance for Scroll Wilds to appear during Egypt Force as they substitute god symbols, making for some lucrative payouts.
Gods of Egypt actually gifts players with both traditional Wilds and the new Scroll Wilds. Once activated, Wilds and Scroll Wilds substitute all the payout symbols. All god symbols and Scroll Wild symbols have the ability to gain multipliers and expand to fit the reels. If the Scroll Wild symbol lands on the reel in one piece, it will experience a multiplier twice. Alternatively, if just 1/3 of the symbol appears on a reel, it will expand, becoming whole, but will not experience a multiplier. However, should a player be lucky enough to have 2/3 of a symbol appear, it will not only expand but also experience a x2 multiplier.
Alongside these lucrative new features are KamaGames' longtime features Free Spins and Slots Status. When 3 Wild symbols appear on reels 2, 3 or 4, Free Spins begin, giving players the chance to build their chip balance. Slots Status challenges players to put their luck to the test and build their reputation as the best. While all players begin at a bronze status, they can win chips and progress to a silver, gold, ruby emerald and sapphire status.
Thanks to these features - both old and new - players can build their fortune while indulging in the majesty of ancient Egypt. This rich new Slots launch is available from version 53 and above.