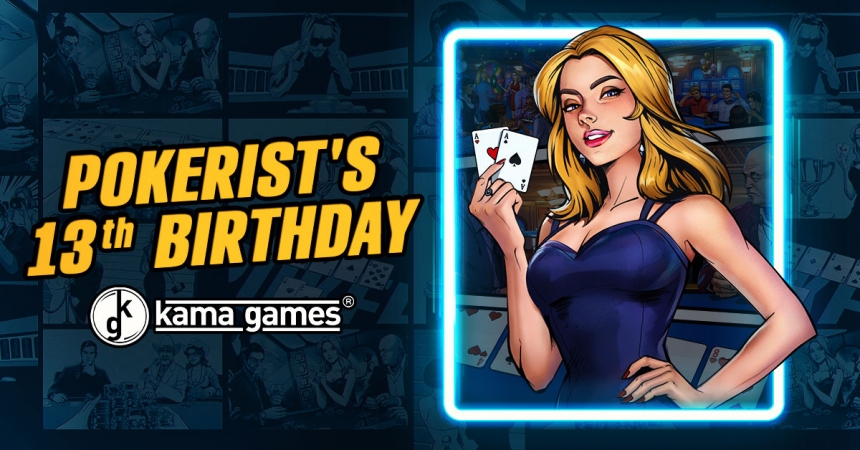 KamaGames is happy to celebrate the 13th birthday of our flagship app, Pokerist!
Since its launch in 2010, Pokerist has consistently grown to become the third-ranking poker app in the world in terms of both revenue and audience size. Through KamaGames' use of creative features, mechanics and design, our flagship app has also achieved the status of the number one poker app across multiple regions.
Since our last birthday celebration, KamaGames has concentrated our efforts on key innovations across numerous areas to enrich our offering. These innovations focused on the regular introduction of new features, enhanced socialisation and new monetisation opportunities.
Amongst our most impressive launches of the previous year is the introduction of 3D poker. Thanks to the rich graphics and animated character emotions hosted within this feature, players can now engage with a truly realistic and immersive casino-playing experience. Another launch that captivated the attention of our audience was our challenging Leagues feature. Leagues embolden our players to put their skills to the test and prove they're the best. Players start at the bottom at the Bronze League and work their way to the top to conquer the Diamond League. As an added enticement, they can collect generous rewards as they progress from league to league.
KamaGames also recently updated a host of established games and events to add greater rewards and entertainment value to players. This was noticeable throughout the casino but most evidently with our holiday events as players benefited from increased rewards, more intricate quests and unique passes. Throughout this previous year, KamaGames also focused on ensuring players reaped substantial rewards for engaging with our content. For instance, players who interacted with our holiday events and Casino Pass seasons will have noticed increased rewards for watching specific videos. If players found themselves in a rich position from skilled playing within the game, KamaGames also allowed them to share the wealth by introducing the ability to send friends chips, lottery tickets and more!
However, there were also various updates outside of KamaGames' core poker game. Given the popularity of our social sports betting feature, KamaGames decided to add an exciting new element to this area. Thus, we launched accumulator bets, allowing players to wager on several matches at one time and scoop up an impressive bonus of up to 50%. Furthermore, we grew our already fan-favourite Slot offering to include more than fifteen new machines and seventeen jackpots. Our video poker portfolio experienced similar growth with the addition of ten new titles, each hosting its own creative design and exhilarating features. KamaGames' launch success also includes the game Spades, which commanded the attention of the US region this year. Yet, we didn't just focus our attention on the US. In fact, as a company, KamaGames has always expressed our commitment to moving into new and emerging markets. This year proved no different and to aid us in that endeavour we implemented a new language, Farsi. KamaGames' app has now been localised to no less than 33 languages, more than any other poker app on the market. The addition of KamaGames' latest updates and innovations has solidified our standing as, not simply a poker app, but a real casino with 13 high-quality games.
Likewise, given the extensive range of social features on offer to our players, KamaGames considers Pokerist not solely a poker app, but also a social network. Longtime players have always been able to interact via in-game chat, animated avatars and through the exchange of luxurious or amusing gifts. More recently, however, further socialisation has been encouraged with the introduction of Leagues. After all, a player's League level is on display for friends and rivals to see - making for some entertaining interactions.
Intelligent monetisation opportunities have consistently been a pillar of KamaGames' business strategy. In terms of monetisation, KamaGames has included a wealth of offers to players throughout the previous year. We not only added a new Piggy Bank feature, but we also made the decision to generously reward paying players who make purchases in our games.
To celebrate the previous thirteen years of overwhelming success, KamaGames has launched a wealth of content within Pokerist. This includes a vast array of activities and bonuses aimed at keeping players engaged and entertained, while also giving them ample opportunity to win big. Players can delight in a special new season of Casino Pass or alternatively, Super Tournament Day in Slots where they'll collect enticing x10 rewards. Players will also catch an exclusive tournament with handsome rewards and a wealth of other birthday content to be enjoyed!
Looking to the year ahead, KamaGames is committed to sustained growth. As a company, our focus will remain on emerging as a leader in new countries, in terms of both downloads and revenue figures. We're also working toward the launch of new and unique mechanics and tournaments to our apps. Through these ambitious steps, we aim to achieve our ultimate goal of supplying value, entertainment and joy to our ever-growing community of players.