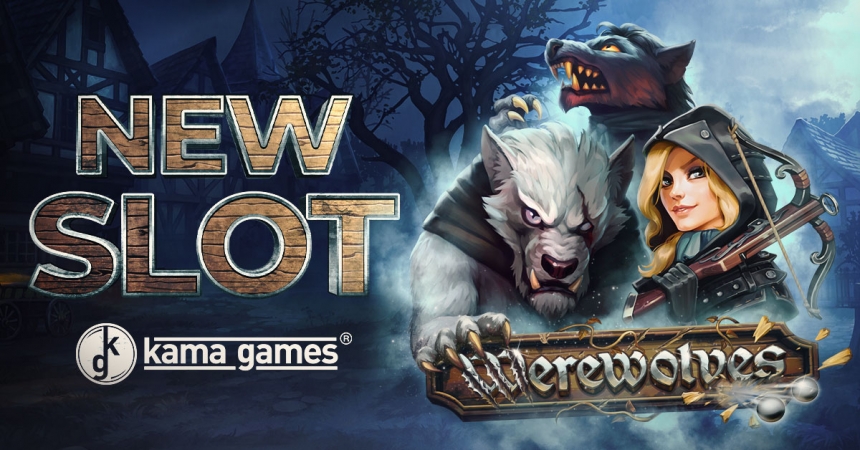 KamaGames is proud to announce the latest addition to our Slots portfolio, Werewolves!
The full moon is rising! Players are challenged to arm themselves during daylight and fight fearsome werewolves come nightfall.
To help players collect the tools they require to survive the night, KamaGames has packed this latest slot with a wealth of mechanics. Firstly, KamaGames have included unique WILD symbols in this slot. In Werewolves, WILD symbols substitute all others except the equipment symbols that players use to hunt at night. Furthermore, players can take advantage of our generous Free Spins mechanic when playing the slot. 30 Free Spins can be scooped up after nightfall, but only once specific items of equipment or tools have been collected. Players should collect with care as each tool is vital to surviving the perils of the night hunt.
When daybreak dawns, players who have weathered the night with 30 Free Spins are treated to a bonus game. Here players will be presented with a collection of themed chests. The aim of the game is to unlock as many chests as possible without being caught by the werewolves lurking in nearby shadows.
Outside of the bonus game, players can also enjoy our popular features such as Slots Status. This allows players to engage with the game, win points and rise through the ranks to silver, gold, emerald, ruby and sapphire status. As a reward for their continued loyalty to our apps, KamaGames' VIP players gained early access to the Werewolves slot in recent days. Now, however, this latest launch is available to the whole of the community who have updated their app from version 45 and above.