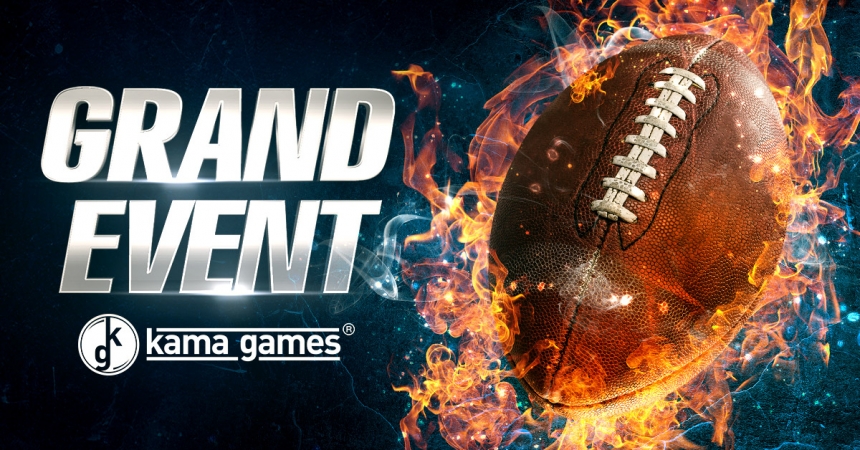 KamaGames is thrilled to announce the launch of activities for the US football final!
Each year the Super Bowl attracts nothing less than global recognition from sports fanatics. Thus, it follows that our players would voice an interest in the captivating event. To celebrate this interest KamaGames is gifting each player with one free bet starting from the 10th of February. Players can use this bet to wager on their favourite team and hopefully, strike it big! To add even more thrill to this special promotion, 50 random bet winners will collect a x5 bonus.
In honour of the Super Bowl, KamaGames has also transformed our social casino to include specially-themed sporting content. This includes themed gifts, decorations and a unique trophy for our weekly tournament that celebrates American football. Along with this distinctive trophy, players can collect double rewards when they engage in this tournament.
What's more, KamaGames' event also gives players the chance to scoop up points for playing their favourite games. As they make their way around the casino, players can win games and in return, be gifted with event points. During this time, the more points a player collects, the greater their reward will be.
Since the launch of our social sports betting feature in recent years, KamaGames has recognised a notable and long-lasting crossover between sports and online gaming enthusiasts. We strive to satisfy this sector of our players by giving them content devoted to a range of high-profile sporting events. Given the popularity of the Super Bowl, we're confident that this latest themed event and free bet promotion will be warmly received by the KamaGames community.