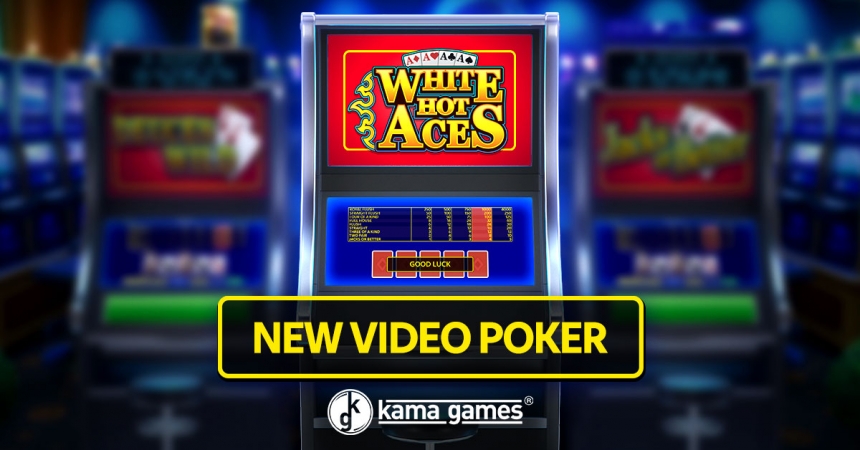 KamaGames is thrilled to introduce the newest instalment of video poker, White Hot Aces.
White Hot Aces combines the thrill of a five-card poker game with the ease of a slot machine. The goal of this bold new game is to create a five-card poker hand that contains at least one pair. However, players are gifted with an extra wild card by the casino to help increase their chances of winning big!
The appeal of White Hot Aces lies in its ease of playing coupled with its ability to bring in a wealth of strategic opportunities. Like with many of our video poker titles, it's available in two versions. Firstly, there's the classic mode, aimed at true poker purists. Then there's the multi-hand version, hosting a more colourful and modern interface that offers up to 25 playable hands at once. Boosting in-game excitement even further, players can engage with the Double or Nothing round, which offers them the thrilling chance to duplicate their winnings.
Players of White Hot Aces will also find themselves with the ability to adjust their bets and build their hands based on the cards they're dealt. Furthermore, the game features a variety of bonus payouts. The most lucrative of these is the Four Aces payout, which can multiply a player's winnings by 1,200! In addition to these bold and potentially lucrative features, players can also enjoy the game's sleek and intuitive interface, which makes it easier for new players to learn the ropes and quickly become adept at securing success.
Given White Hot Aces' engaging features, quality design and potential for big payouts, KamaGames is confident that this latest launch will keep video poker players entertained for hours on end.