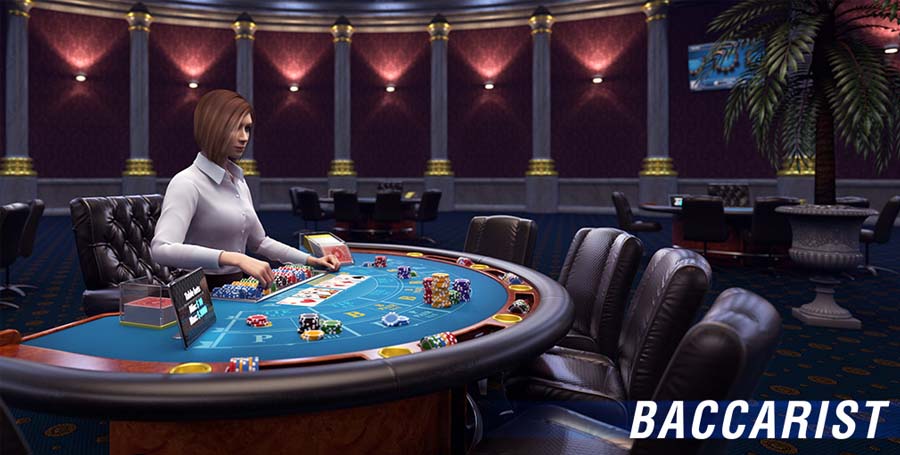 KamaGames were thrilled to recently announce the newest game to join our social casino family, Baccarist. Our latest app release is based on Baccarat, the classic banking card game that is enjoyed on casino floors worldwide.
We know that some of you may not have played Baccarat or may be at least a little rusty, and so we wanted to give you some pointers that we hope will help you.
Fun fact, did you know that more players play Baccarat, also known as Punto Banco, than Blackjack in Las Vegas and Macau and James Bond fans are sure to recognise Baccarat as it is the card game favored by the iconic spy in many of Ian Fleming's novels.
Developed using classic Baccarat rules that stretch back over 600 years, the goal of Bacarratist is simple. Pitting player against banker, the winner is the first one to reach, or get closest to, the highest possible score of 9.
How To Play
Starting off, two hands are dealt face up by the house dealer, the "banker" hand and the "player" hand. Before the hands are dealt, bets may be placed on either the banker hand winning, on the player hand winning, or on a tie.
Here's where the value of the cards come into play. Cards count as face value, with picture and 10's as 0 and Aces as 1. If the value of your two cards are over 10 then only the last digit of the total counts (so that for example 7 plus 6 is worth 3, not 13). Players draw a third card if their cards total 0-5.
A natural win can occur if the value of the two cards dealt to the player or banker total 8 or 9. Once all cards are dealt it is time to find out who has the winning hand.
Baccarist is truly a highly exciting game that is sure to appeal to our own high rollers for two simple reasons - high stakes and fast play! Two things that we are sure every one of our Pokerist, Roulettist, and 3D Blackjack players love.
Those familiar with our other games are sure to love the other familiar features that can be found in Baccarist:
3D GRAPHICS – An absolutely free baccarat game with stunningly realistic 3D graphics.
NO REGISTRATION – Get straight into the action. Use guest mode to play baccarat without registration.
SINGLE ACCOUNT – Start playing on your smartphone or tablet and continue using your account to play any of our other games!
YOUR OWN PROFILE PAGE -hosting all your progress and status in the game! Win tournaments, get achievements and buy new property to own the game.
FREE CHIPS – Visit the game every day and get free chips.
GET REWARDS – Place bets, take risk and unlock achievements.
PLAY WITH FRIENDS – Invite your friends to the game via email or Facebook and get bonuses as a reward.
CHAT WITH OTHER PLAYERS – Use the convenient chat and message system to discuss rounds you've won and get even more fun out of the game.
FAIR HAND DEALING GUARANTEED! - Certified Random Number Generator (RNG) to bring you the best and fairest game experience.
To play Baccarist for free on iOS please click here.
To play Baccarist for free on Android please click here.