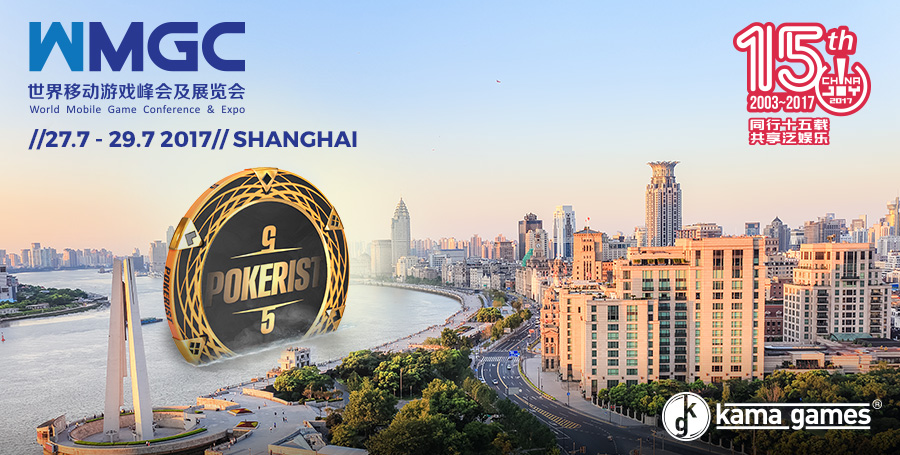 KamaGames are pleased to announce they are a platinum sponsor of the forthcoming World Mobile Game Conference (WMGC) taking place in Shanghai from July 27th to July 29th, 2017.
The WMGC is one of the key events of ChinaJoy 2017, the largest digital and entertainment exhibition held in China and Asia, which attracted over 325,000 attendees in 2016.
Now in its 15th year, China Joy is a must attend event thanks to the variety of talks from some of the world leaders in global mobile gaming as well as industry meetup and networking opportunities.
KamaGames are not only platinum sponsors of the WMGC, our Chief Marketing & Commercial Officer for KamaGames, Daniel Kashti, will also be giving a talk on Growth Opportunities Within The Social Casino Industry.
Taking place on Friday 28th July at 6 PM, Daniel will look at where social casino is going in terms of growth and how standard western social casino games such as poker, blackjack and roulette are evolving in order to keep existing players engaged while appealing to new demographics.
As always, it wouldn't be an event without KamaGames hosting a party so we are happy to confirm that we are going to be teaming up with our friends at PocketGamer to bring our biggest party yet taking place on the 28th of July from 7 pm until late.
Guaranteed to be one of the best nights of the conference, the party is ideal for both networking and relaxing after a busy day with guests having exclusive access to both Blackjack and Poker tables, food and drinks and surprise giveaways on the night.
If you want to catch up with anyone from KamaGames or would like to know more about our party, just pop Meetus@kamagames.com a quick email.
Keep an eye on www.KamaGames.com, www.Facebook.com/KamaGames, and www.Twitter.com/KamaGames to see where else the team will be during the remainder of 2017.