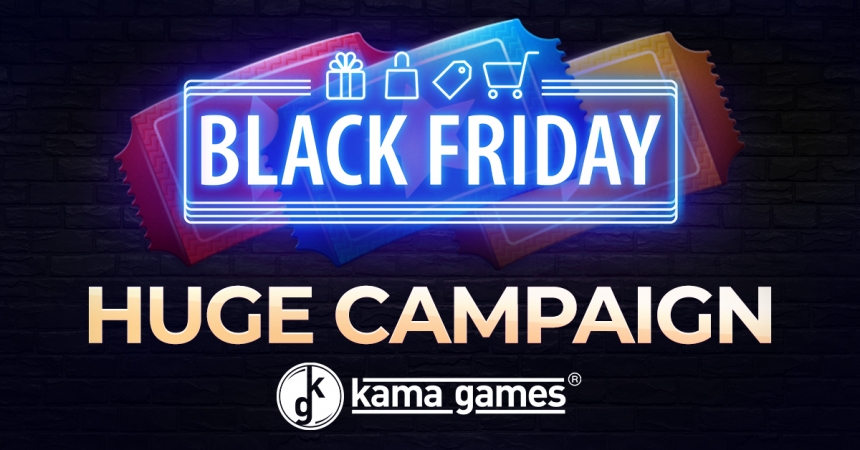 KamaGames is pleased to announce the launch of our 2020 Black Friday Marketing Campaign! Running from November 20th - 30th, the campaign includes the entirety of KamaGames' social casino titles and hosts a wealth of in-game content for players.
Black Friday is synonymous with sales and KamaGames' event doesn't disappoint as each day introduces a new opportunity for players to either win or save big. Sales will focus on chips, gold and lottery tickets, where players can buy up to 3 times more of these items for the standard price. KamaGames will also be introducing special packs, Wheel of Fortune and Chip jar, alongside additional exciting offers.
During this event, when playing in a KamaGames app, players can earn points for hands won. These points can then in turn be used to claim sensational rewards. The more points a player generates, the greater the reward they can collect from the casino. Players will also use points to climb the leaderboards in a global, country and friends rating system. However, if players are falling behind on their leaderboards, they can collect event points as a bonus in-game. To fuel this competition even further, boosters, which double a player's event points, can either be purchased or collected for free through gameplay.
KamaGames' Slots portfolio will take a special focus during our Black Friday event. A brand new slot, Pharaoh's Gold will be launched during this time and special jackpots will be introduced to several already existing slots. In these titles, the reward for winning a jackpot has been multiplied by as many as 10 times. Players can also visit KamaGames' social channels to take advantage of additional bonuses, gifts and activities hosted on our pages.
KamaGames' Black Friday event stands as one of our biggest marketing campaigns to date. With each event hosted, we aim to grow our numbers, improve upon the quality of these events and involve even further mediums of communication for our players.
To download Pokerist and engage with KamaGames' Black Friday event, click here.