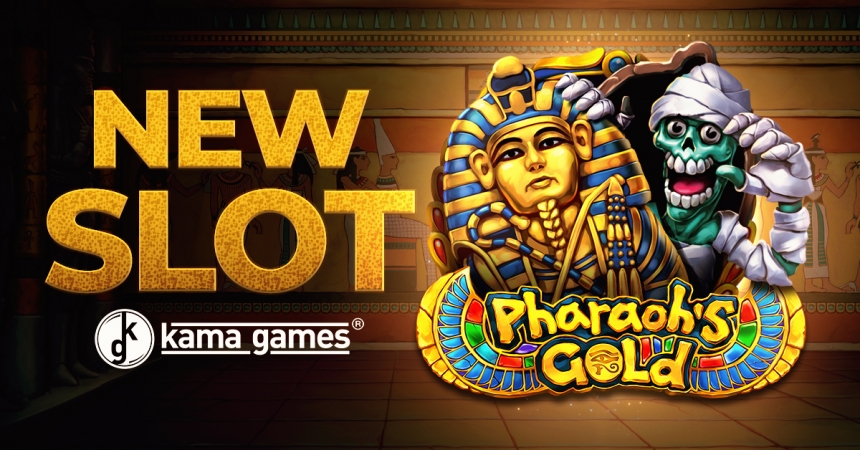 KamaGames is pleased to announce the launch of our latest Slots game, Pharaoh's Gold.
Set among deserts of ancient Egypt, this slot centers around two historic characters of the land - a venerable Pharaoh and a time-worn mummy.
As this slot is a key part of KamaGames' Black Friday event, it hosts a collection of special features that cannot be found in our other Slots titles. For instance, the main feature of Pharaoh's Gold is that it holds not one but a total of four bonus games. Each game hosts its own engaging feature that distinguishes it from the others.
In Treasury Bonus, the game begins when the Treasure Room bar on the left side of the screen is complete. Tomb Bonus operates in a similarity and is triggered when a player collects enough rewards to fill the Tomb Bonus bar on the right side of the screen. In both bonus games, each Bonus symbol on the reels fills one point on the bar. The size of a player's reward is calculated based on the average bet on the spins that filled the bar. When 3 bonus symbols appear anywhere on the reels, Pyramid Bonus begins. As an added twist, this bonus game only appears only on reels 1,3 and 5. In the final bonus game, Mummy Bonus, a unique feature is that it pays out when 5 bonus symbols appear anywhere on the reels.
Pharaoh's Gold also includes the ever-popular Free Spins mode and WILD symbols. If 2 Free Spins appear on the reels the player receives a total of 10 free spins. If WILD symbols appear as part of a combination, it multiplies a player's winnings. Should a player experience multiple WILD symbols, their individual multipliers are then combined to total their winnings. All WILD symbols in Pharaoh's Gold Free Spins mode are X2 or X5.
Whilst this game is now available to the entirety of the KamaGames community, VIP players received access to this new slot in the week previous to its launch to the general public. These players were at a level of 1 and above.
To play Pharaoh's Gold or any of KamaGames Slots titles, click here.