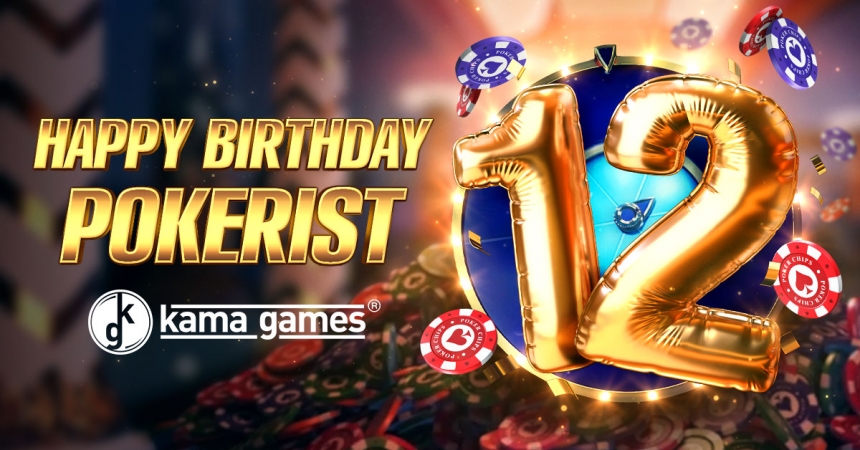 KamaGames is pleased to celebrate Pokerist's 12th birthday!
Since its launch in 2010, Pokerist has consistently grown to become the 3rd largest poker app across the globe in terms of both revenue and audience. Through KamGames' use of creative features, mechanics and design, our flagship app has also achieved the status of number one poker app across multiple regions.
Throughout the previous year, KamaGames has focused on key innovations across numerous areas to enrich our offering. These innovations focused on the regular introduction of new features, enhanced socialisation and new monetisation opportunities. Thus, KamaGames introduced the Casino Pass, an engaging feature that allows players to complete exciting quests and collect enticing rewards. Also, players can now enjoy seeing their favourite global celebrations, honoured in-game with Holiday Events. Recently, we also added Pro Challenges to our collection of features. Found exclusively at the professional tables, this feature allows the very best of our players to test their skills for handsome rewards.
Given the extensive range of social features on offer to our players, KamaGames considers Pokerist not solely a poker app, but also a social network. Throughout Pokerist, longtime players have been able to interact via in-game chat, animated avatars and through the exchange of luxurious or amusing gifts. More recently, however, KamaGames has built upon this offering with the introduction of voice chat at the tables, alongside quick replies of commonly used phrases.
Shrewd monetisation opportunities have always been a cornerstone of KamaGames' success. In terms of monetisation, KamaGames has included a wealth of offers to players throughout the previous year. We not only revamped our lottery ticket feature but also introduced more methods of collecting chips thanks to new rewarded video placements. KamaGames has also made a significant drive to improve our merchandise store over the previous year. Now, players can enjoy our exclusive Pokerist merch across a variety of different countries and regions.
Still, KamaGames holds a firm commitment to consistent and continual growth to new and emerging markets. In line with this, we added no less than three new languages to Pokerist this year. Now our flagship app can be enjoyed via a total of thirty-two languages across the globe.
Given the success of our core poker title, KamaGames has introduced a wide variety of additional social casino games to the online landscape. Like with our poker titles, KamaGames strives to regularly improve our offering in these games. This has resulted in an impressive ten slot machines being added to Pokerist this year while exciting Star Tournaments were introduced to Set poker, blackjack and roulette. Given the variety of games and tournaments on hand, Pokerist is considered not just a poker app but a realistic casino experience. Today, our community can enjoy twelve carefully crafted games hosting thrilling gameplay, innovative mechanics and even realistic 3D graphics.
To celebrate the previous twelve years of doubtless success, KamaGames has launched a wealth of content within Pokerist. This includes a vast array of activities and bonuses aimed at keeping players engaged and entertained, while also giving them ample opportunities to win big. Players can boost their balances thanks to our lottery tickets with x20 value or enjoy a new season of the ever-popular Casino Pass. Alongside these activities, our apps will host Super Tournament Day in Slots with x3 rewards and an exclusive anniversary tournament with unique prizes.
Looking to the year ahead, KamaGames is committed to sustained growth. As a company, our focus will remain on becoming a leader in further countries, in terms of both downloads and revenue figures. We're also working toward the launch of new and unique mechanics and tournaments to our apps. Through these ambitious steps, we aim to achieve our ultimate goal of supplying value, entertainment and joy to our ever-growing community of players.