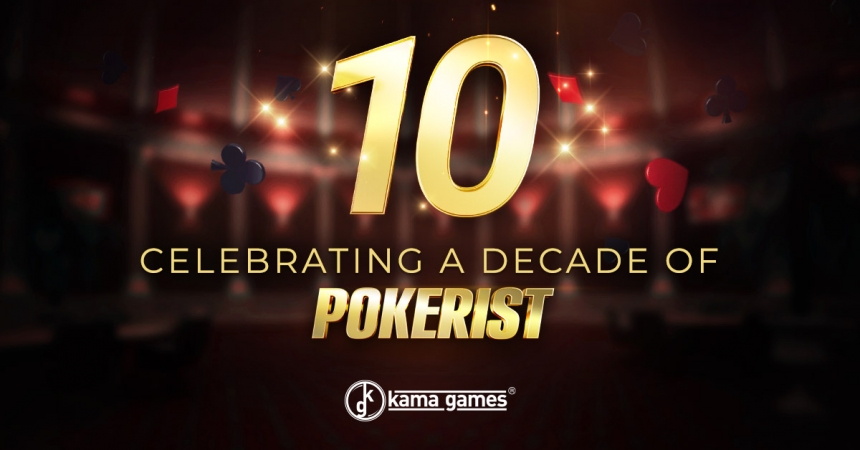 KamaGames is proud to celebrate the 10th anniversary of our flagship app, Pokerist. In the 10 years since Pokerist's beginning, it has soared to the rank of 3rd global social poker app, taking the number one spot in several regions and demonstrating continuous growth year on year.
Attracting more than 140M global users and counting, an integral element in the success of Pokerist is the variety of unique features the app hosts when compared to competitors. In many cases, these now popular features appeared on Pokerist long before they were adopted by other poker apps. The most prominent of these intricate mechanics have been our innovative Party modes which resulted in poker being played by special rules, Multi-Table Tournaments (MTTs) hosting hundreds of online players, Boost Tournaments, and Bad Beat Jackpot. Each of these additions offered a creative new way of playing classic poker games for players of all levels and abilities. The introduction of MTTs marked a significant milestone for Pokerist and the social casino community as a whole as this was the first time this real-world hardcore poker mechanic was successfully incorporated into a mobile poker app.
Throughout the previous 10 years, KamaGames has recognized the importance of socialization features in gaming, including instant messenger features, alongside the ability to chat and send gifts at the tables. This interaction proved a hit among players and contributed to bringing the community of the poker tables to life.
Pokerist plays host to several high-quality titles such as roulette, blackjack, Omaha poker, craps, and slots, etc. In 10 years Pokerist has been made available across a variety of popular platforms including the Apple App Store, Google Play, and the Amazon App Store and the PlayStation Store. In addition, Pokerist was also the first social poker app to launch on Apple TV and Facebook Instant Games. This theme of accessibility is considered by KamaGames as a key building block in the success of our flagship app.