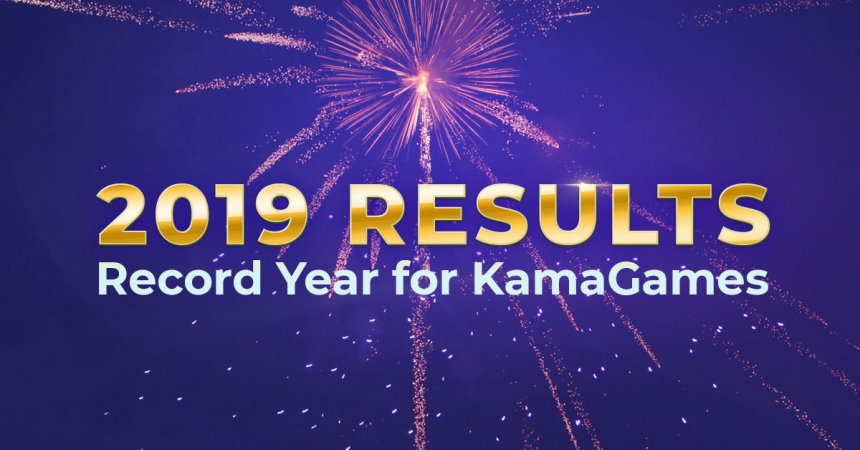 KamaGames, are proud to announce our 2019 end-of-year results, revealing a fourth year of consecutive growth for the company.
In these latest results, reflecting the 1st January - 31st December 2019 period, KamaGames reports total revenues of $90.4M, a +18.3% growth from 2018 which stood at $76.4M. This notable increase is ahead of the overall market revenue growth which stood at +8.1% in 2019, according to a recent Eilers & Krejcik report.
KamaGames increased development spend and investment in both new and existing products, leading to a number of key achievements in the previous year.
In December 2019, we set a new company record in terms of revenue, a number which we have already surpassed in January of 2020. Each month of 2019 also recorded growth when compared to the corresponding time period from the previous year. We attribute our success to our focus on the overall improvement of our core products. This has resulted in a record year for unique paying players per month, alongside an upturn in retention, paying users, average revenue per paying user (ARPPU) and average revenue per user (ARPU).
2019 also provided an opportunity to expand our Slots portfolio and introduce a number of new unique features such as a referral program, subscription service, an all-new casino guide and, social sports betting. We also launched several new Party modes, multi-table tournaments and games, most notably MTT Omaha, MTT Joker Party, MTT 10 to Ace Party, 3D Craps and Video Poker.
In the previous year, we focused strongly on user acquisition campaigns which proved successful, resulting in a high return on investment. Yet, intelligent and strategic partnerships were also a key element in our 2019 success. KamaGames will soon announce the launch of a partnership with an iconic American brand, allowing us to access a highly targeted casino audience in the US region. This is a previously untapped user base for both KamaGames and other leading social casino operators.
A key factor in KamaGames' enduring success has been our dedication to providing a product yet to be matched in the social casino space. We intend to continue this in 2020 with the launch of several new monetisation features, regionally popular card games and events aimed at heightening player engagement and retention. We are already preparing and finalising several exciting launches which we feel will build on these impressive 2019 results and we look forward to sharing these announcements in the near future.