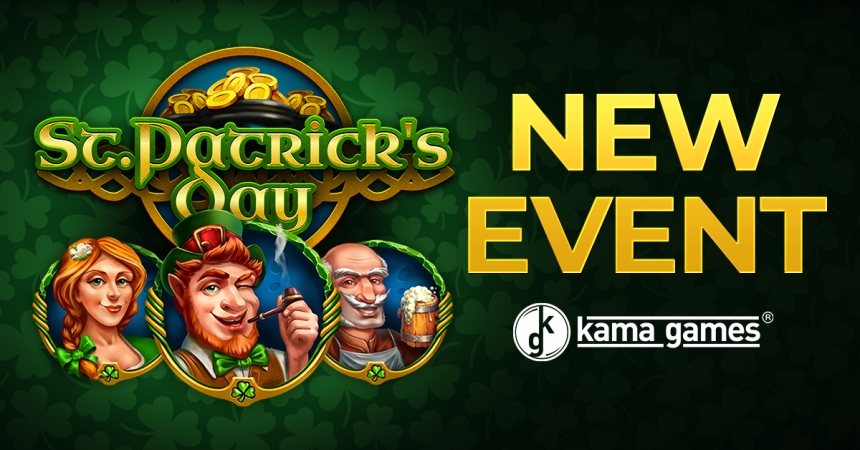 KamaGames is proud to announce the launch of our latest in-game event, St. Patrick's Day.
From March 15th to the 22nd, KamaGames' players will be blessed with the luck of the Irish. Along with luck, this newest event will bring a host of Irish themed surprises, bonuses, decorations, gifts and special promotions. Players can also participate in several inventive giveaways, along with a special themed slot for the occasion, titled Lucky Clover.
Lucky Clover gives players the chance to find their own pot of gold thanks to its x10 prize pool. This St. Patrick's Day event will also host a special weekly poker tournament where participants can expect to receive x2 rewards.
St. Patrick's Day originates from the Emerald Isle but throughout the centuries has become a global celebration of the culture and vibrant history of Ireland. KamaGames aims to have players interact with its growing collection of social casino games while embracing this rich and long culture. When player's win a game or hand, they'll not only collect their chips but also receive valuable event points. During the St. Patrick's Day celebration, free point boosters will be spread across the casino for players to earn and collect. Boosters can be used to elevate a player's points status by multiplying the points they've earned. As a player's balance of event points grows, they'll have the chance to exchange them for a variety of rewards. To add a further dose of friendly competition, these points will also count towards a player's standing in a friend, country and global rating system.
KamaGames has held a strong focus on in-game events in recent months with great success. Therefore, we have every confidence that players will respond positively to our St. Patrick Day celebrations.