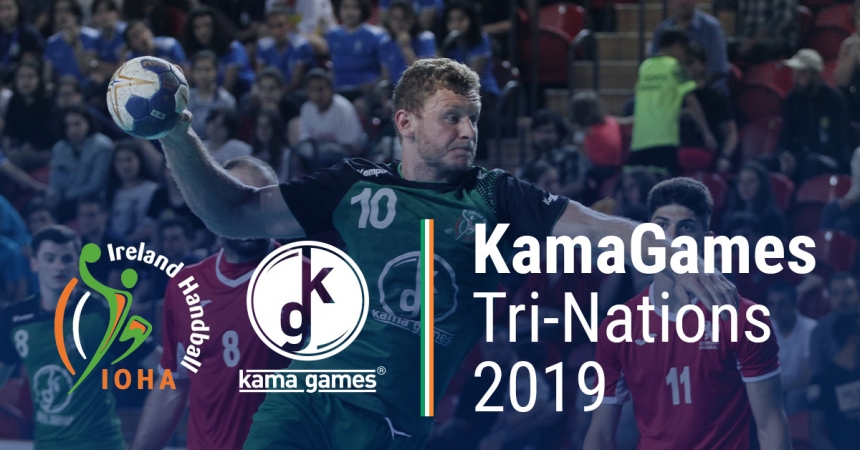 KamaGames have today announced that it will be the major sponsor of the inaugural Annual KamaGames Tri-Nations, which will be held at the Gormanstown Park Sports Complex between the 25th - 27th October 2019.
The first "KamaGames Tri-Nations" will see Ireland compete against the USA and Great Britain across three days of competitive handball, was officially launched today by KamaGames CEO Andrey Kuznetsov and IOHA Secretary Michael Moloney.
"Our best homegrown talent will compete against two quality opponents in the biggest ever handball event held in Ireland," says Moloney. "The whole weekend will be a celebration of Olympic handball, so this is the perfect opportunity to raise the profile of the sport here in Ireland."
KamaGames CEO, Andrey Kuznetsov, added "I have no doubt that the Tri-Nations Tournament will be a great way to expand the game both at a domestic and an international level. I'm a strong advocate for this tournament based on what it can potentially do for the reputation of this international game. We've witnessed the impressive growth of Olympic handball during the duration of our partnership with the IOHA and we are proud to support its continued growth in Ireland."
The KamaGames Tri-Nations 2019 marks the first time Ireland, Great Britain, and the USA have competed in a friendly tournament together, having each taken part in the IHF Emerging Nations Championship earlier this year.
The first match will take place on the 25th October which will see the Irish men's team compete against the USA. The last time the two sides met was in a closely contested matchup that left fans hungry for a rematch.
Team GB will then meet the USA on the second day of the tournament having narrowly avoided a matchup back in June's Emerging Nations Championship after the two teams finished in 4th and 5th place respectively.
Playing their second match against Great Britain, the Irish men's team will have a fantastic opportunity to test their skills against a competitive team which is also in a period of growth and development.
As the proud lead sponsor of the IOHA, KamaGames provides new, branded uniforms for men's, women's and junior teams and also ensures the Irish national squads are able to travel to international games around the world through the kit sponsorship agreement.
As well as supporting the current national teams, KamaGames also invests in the development and support of handball as a popular national sport for children encouraging and nurturing the potential next generation of Olympians as well as promoting an active and healthy lifestyle