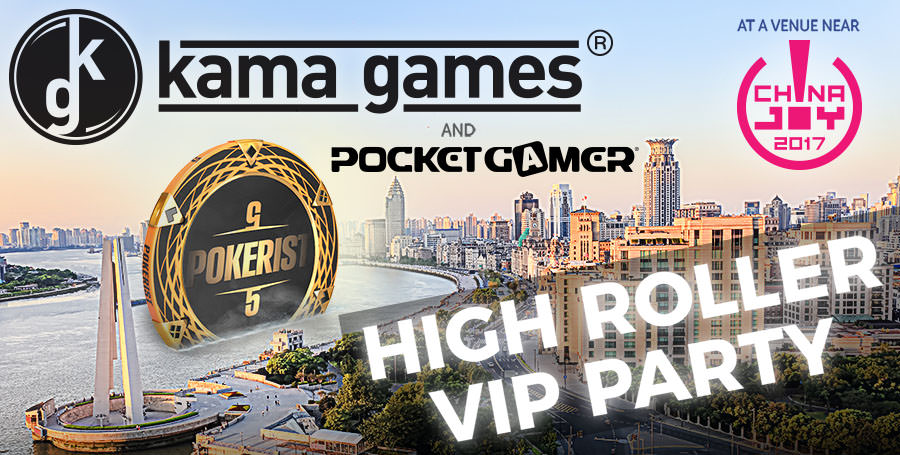 As platinum sponsors of the 2017 World Mobile Game Conference (WMGC), KamaGames welcomes all attendees to one of the biggest parties of this year's conference.
Taking place on Friday the 28th of July, in the glamorous surrounds of the 7th floor of the Luxury Living venue, this is definitely a can't miss event for your Shanghai party itinerary.
Hosted by KamaGames and our friends at Pocket Gamer, this exclusive game developer and games industry professionals only event will be the ideal opportunity to network, unwind, and experience first hand another legendary KamaGames and Pocket Gamer party.
Not only will partygoers get to enjoy complimentary food and drink but they will also get to chance their luck on our poker and blackjack tables located throughout the venue. The Kamagames and Pocket Gamer team will be on hand from 8 PM until late to make sure you have a great night.
Just a short cab drive from the Shanghai New International Expo Centre, home of ChinaJoy 2017, this party is an exclusive industry only event and therefore anyone wishing to attend must RSVP in advance at the following link:
http://kamagamespgparty2017.eventdove.com
https://kamagames-pg-party.eventbrite.co.uk
Come and party like a Pokerist with KamaGames and Pocket Gamer on July 28th from 8 PM.